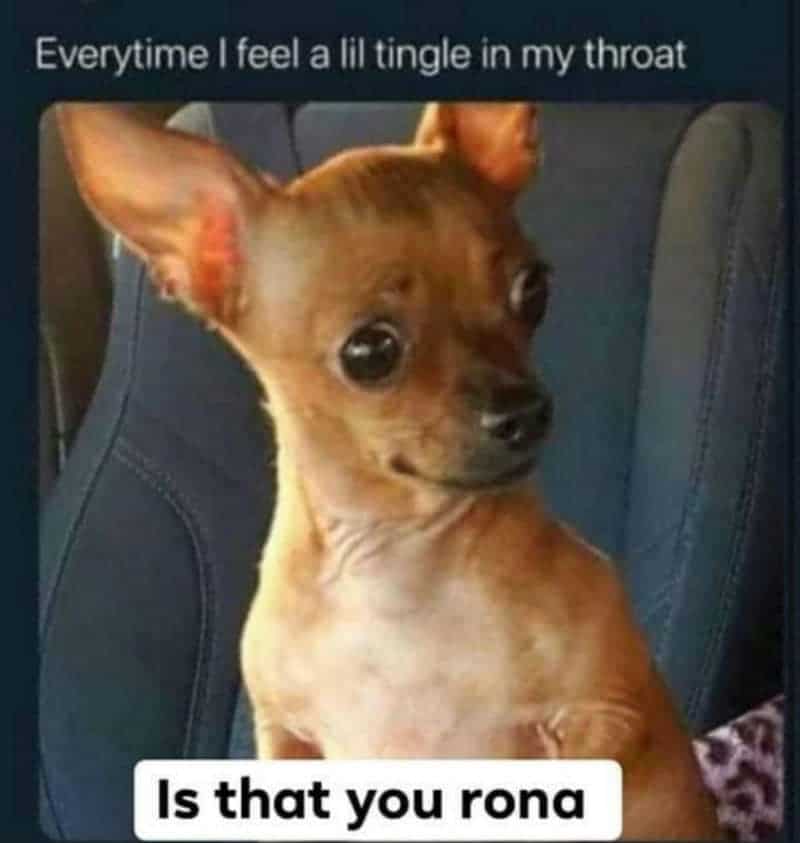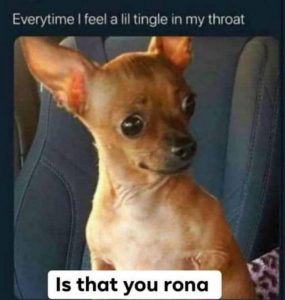 This is the FB meme I kept seeing in March.  It became a running joke in our house.  If anyone coughed or sneezed we all leaned away and gave the look while asking, "Is that you Rona?"  We would all laugh because sometimes humor is the best medicine.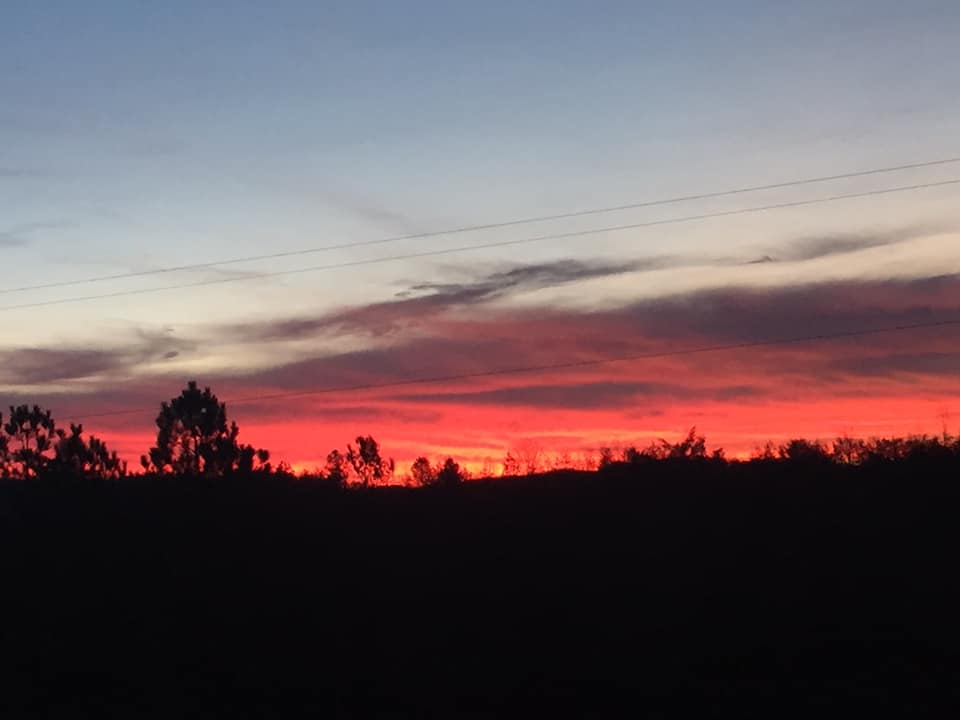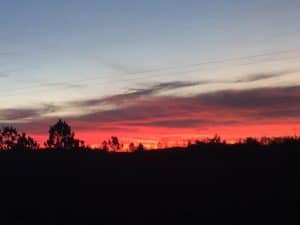 March ushered in some crazy weather but the craziest part of March was the novel coronavirus.  Schools closed, restaurants closed, hair salons closed, dentist offices closed and even some doctor offices closed for anything other than emergencies.  We were even issued a Stay At Home order which didn't seem all that bad to me really.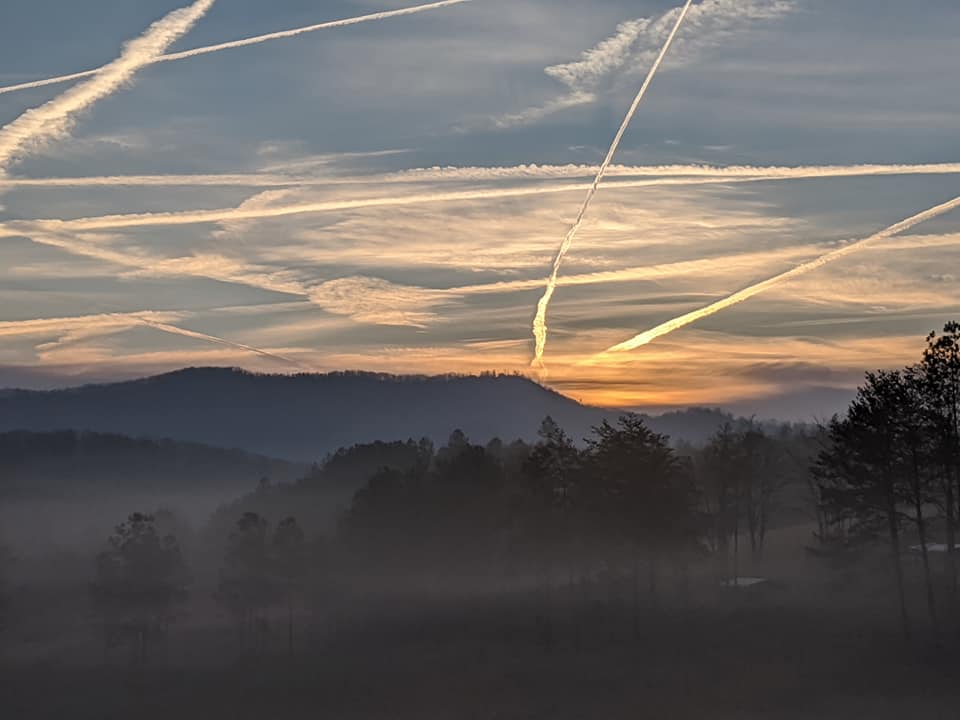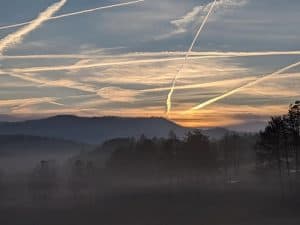 When the Stay at Home order was first issued I was surprised to walk outside one morning and see all the air traffic still going strong.  It only took a few days and the airplanes were basically grounded as well due to lack of passengers.
I know staying at home was rough on some people, but it's no secret that I enjoy being at home surrounded by my family. We had plenty of food and supplies, plenty of chores to keep us busy and acres and acres of land to explore and play on. Most of all we had each other. So we picked back up on our homeschooling routine of schoolwork in the mornings to leave plenty of time for "recess" in the afternoons. Jim was still able to work but was usually home by mid afternoon each day so we were able to spend more time with him as well.  It was heavenly.   Well, almost heavenly.  Having the kids back at home was lovely.  Watching them learn and helping them with their schoolwork was great.  I had missed them so much!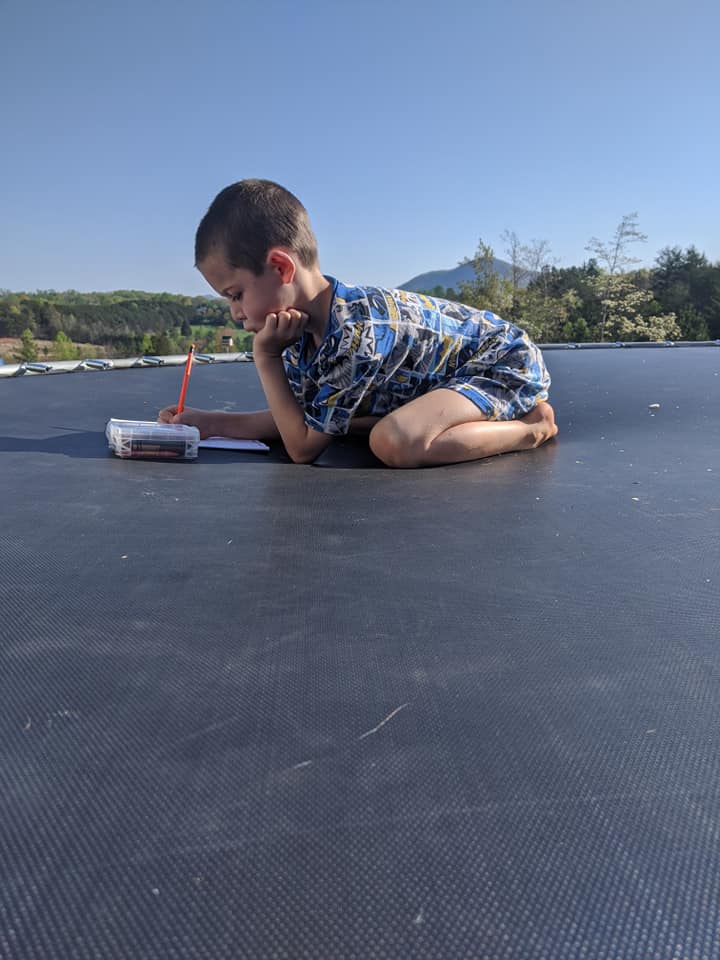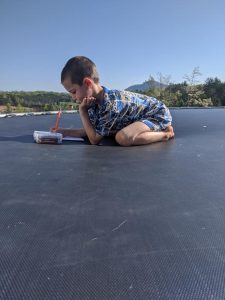 Sweet little Camden doing his schoolwork on the trampoline one morning.  I have missed teaching and learning with them so much!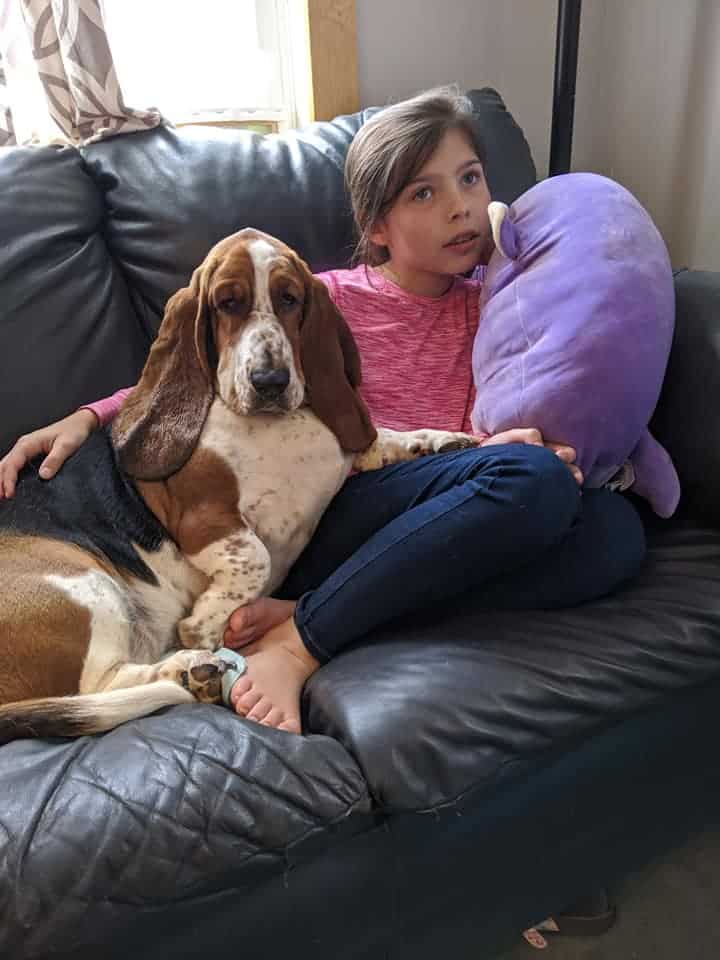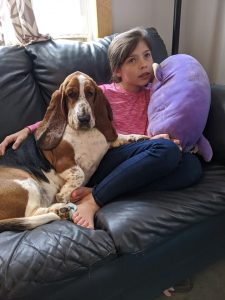 I think it's fairly obvious that Jessie Wrinkles has missed the kiddos too.  She never misses an opportunity to snuggle with them.
The heartbreaking reality was that the kids missed their friends though.  And their teachers and routines.  So, when the Ipads came home with them they were so excited to be able to get back into a routine and connect with their class on Zoom.  (I had never even heard of Zoom until now!)   At first, I tried really hard to read every text and message from the school.  I tried to have the kids complete every "extra" puzzle, word problem or assignment that was sent as "voluntary" on top of all their assigned school work.  I tried logging in for every Zoom meeting.
Well, after the first week, I was done.  I love the teachers and faculty at my kids school but it was really too much for me to try to do everything and still get the chores done at home.  One day a Zoom meeting might be at 10:00 which was totally doable.  The next day a Zoom meeting might be spontaneous scheduled for 5:00 which is right in the middle of chore time.  And we were getting no less than 15 Class Dojo messages spread out all through out the day.  I was beginning to grit my teeth every time a new message popped up.  And we were starting to have some major internet issues with all the Zoom meetings, downloaded work and videos. Let's just say I wasn't my happy self.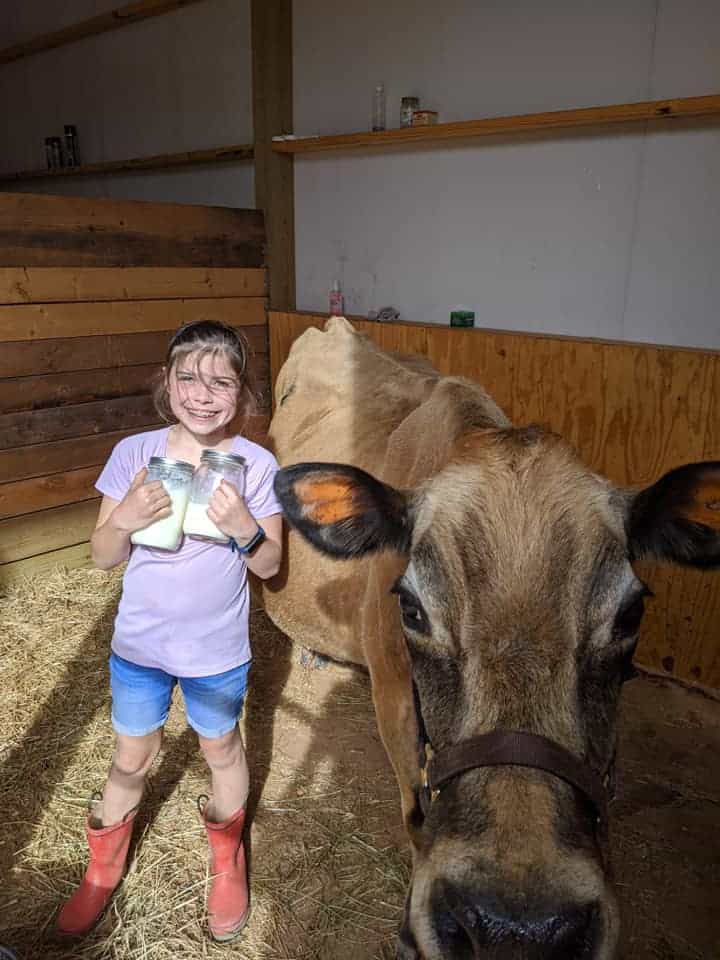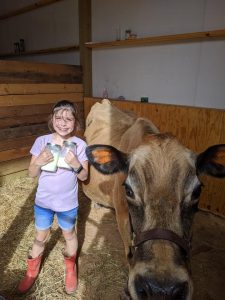 The kids were doing their schoolwork and still learning all kinds of things following me around all day.  I learned that Maylin could have a future in the dairy industry.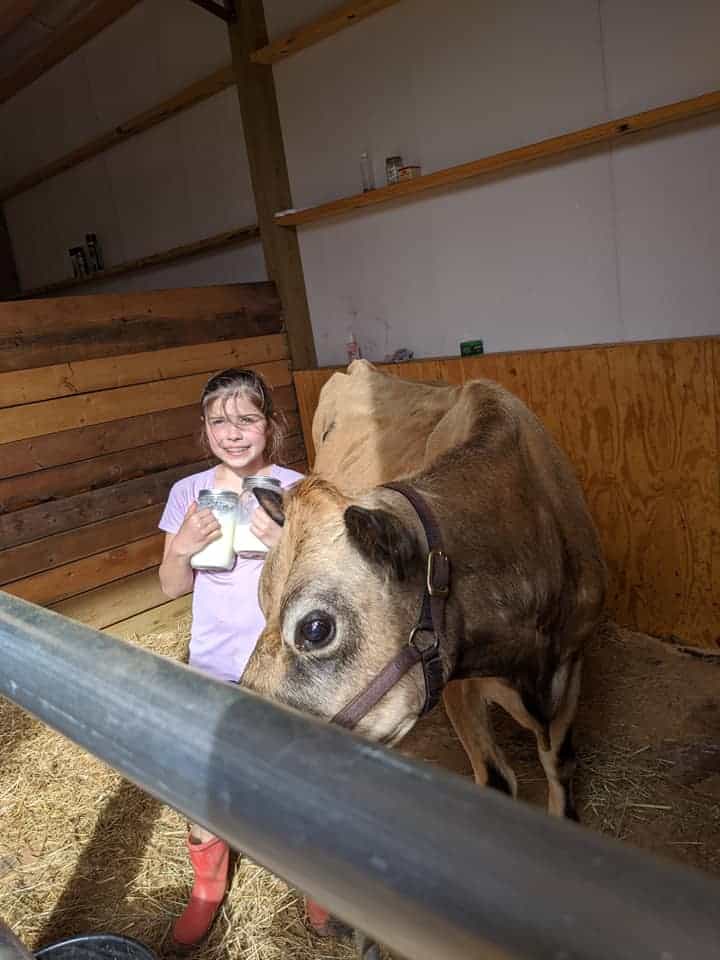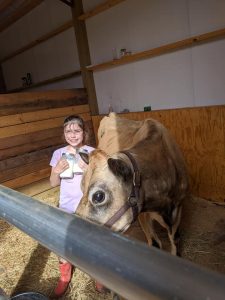 When the kids were in school it was hard to arrange the time for them to milk the cow with me but with the remote learning program all things are possible again!
I don't feel comfortable leaving the kids in front of any online screen without supervision so we missed a lot of those late day Zoom meetings.  Some days we couldn't get the internet to cooperate or we were already out of data for the month and our internet was slower than a turtle.  Some days I would think we were done with all the schoolwork only to get a new posting of a video to watch at 4:00. Or an overview of the morning lessons that we had already completed.  And I always felt compelled to have my kids watch it.  It drove me crazy!  Mostly because I felt like I was living on the school's time ALL the time.  Please don't get me wrong.  I know these teachers dearly love my kids and only want the best for them.  And I dearly LOVE these teachers for all their hard work and dedication during this difficult situation. But… from someone who has always homeschooled and usually stuck with a pretty good schedule, these chaotic interruptions all day were really getting to me.  Yet, my kids loved seeing a new message from the art teacher at 10 am or a new book being read to them at 1:00 by the librarian.  Every day the schedule was different and that was the part that was driving me nuts.  I kinda like schedules.  I like knowing what needs to be done, making a plan to do it and then doing it.  That's just not possible with new messages popping up every hour from another dedicated teacher.
After the first 2 weeks and a lot of complaining from me, I realized that my kids needed me to be more flexible.  I needed to make this time more about them and their needs and less about mine.  If chores had to wait an hour, the world wouldn't end.  If we were late getting to bed because an extra Letterland lesson was added late in the day, it shouldn't be a deal breaker.  If I had to stay until midnight trying to upload my kids schoolwork on Class Dojo using a video link that isn't correct, then I will live.  If I have to get up an extra hour early every day to make all this work then so be it.  I might be slightly grouchy the next day, but I will live.  I would hate to think that my kids remember the Corona Virus as a lockdown with a prison warden.  So, we all adjusted to life, mainly me, and it really was lovely.  However, I will admit to turning off the Class Dojo notifications on my phone so that it wasn't constantly going off.  I checked it every morning, again at lunch and then at night.  And then the days were much more manageable again.  (Big sigh!)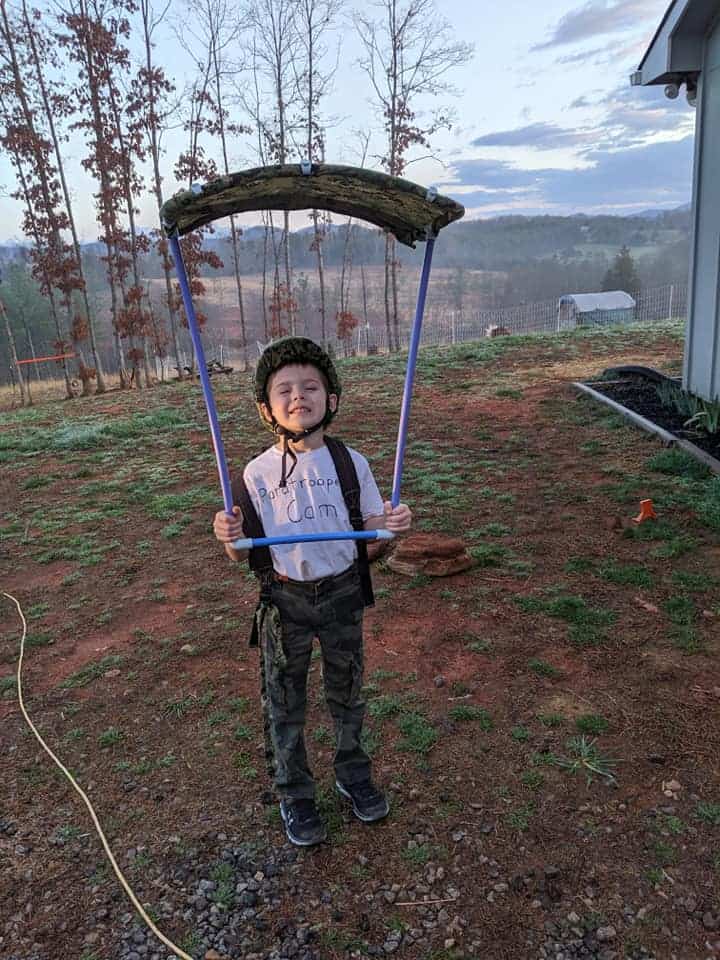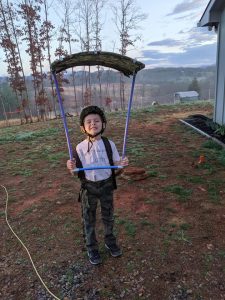 This picture was taken the week before schools were closed, I think….  All my days started running together so I'm not completely sure anymore of when anything actually happened! Haha.  Camden was supposed to dress up as his future occupation.  Well, he sure surprised me.  I just knew he was going to dress up as Spiderman or the Flash.  Nope, he said he wanted to be the man who jumped out of airplanes for our country.  Oh, be still my heart!  I love that kid!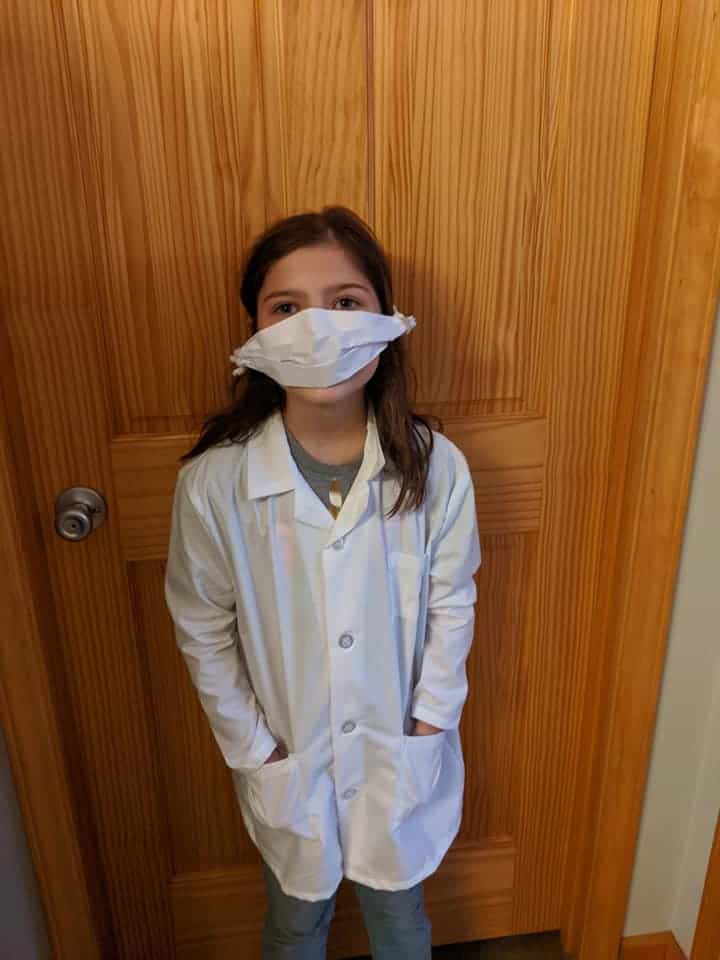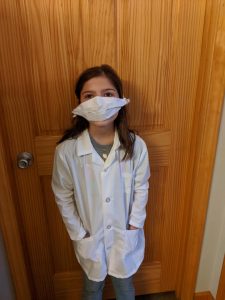 And this beautiful young lady has brought tears to my eyes so many times lately.  She has such a kind spirit and a genuine compassion to help others.  One night after a discussion about all the people dying from the virus she quietly slipped into her room and came out dressed as a medical research scientist.  She wants to find a cure for the virus so no one else dies.  Again, be still my heart.  I love this kid!
As soon as school was canceled, Jim went on a mission to find a dirt bike for the kids.  He had been looking for a while, but with the looming quarantine, he wanted something for the kids to play around with.  Have I mentioned that Jim is still a big kid at heart?  I think that is pretty obvious when you meet him, huh?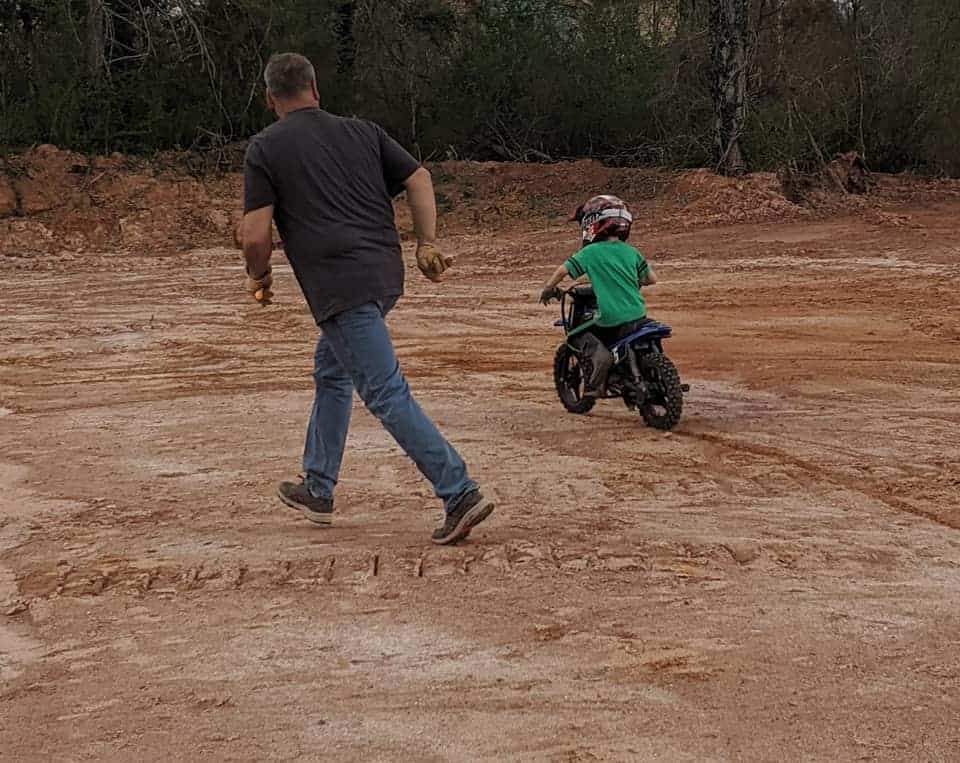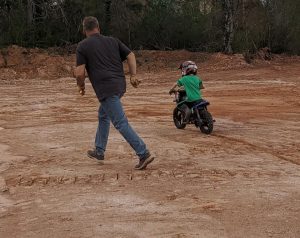 I don't have a picture or video of the first time Cam got on the bike because I was too busy having a heart attack.  I wasn't afraid at all……at first.  Maylin rode it first and zoomed around at an appropriate speed for a beginner.  Then Jim adjusted the gas and Maylin zoom, zoom, zooooomeddd around.  She loved every second of it!
Then Cam got a turn.  In the transition, the throttle never got adjusted down and Camden took off like a rocket!  He was fine at first but then he got nervous.  He turned to look at Jim who was trying to chase him down while yelling directions on how to slow down.  I think that maybe, just maybe, that should have been taught before he was allowed to get on the bike.  Huh.  Anyway… Camden crashed hard before Jim could catch him.  It took him a few minutes to get his nerve back up after that.  It also took me a few minutes to get my heart rhythm back to normal so these pictures are from later that day.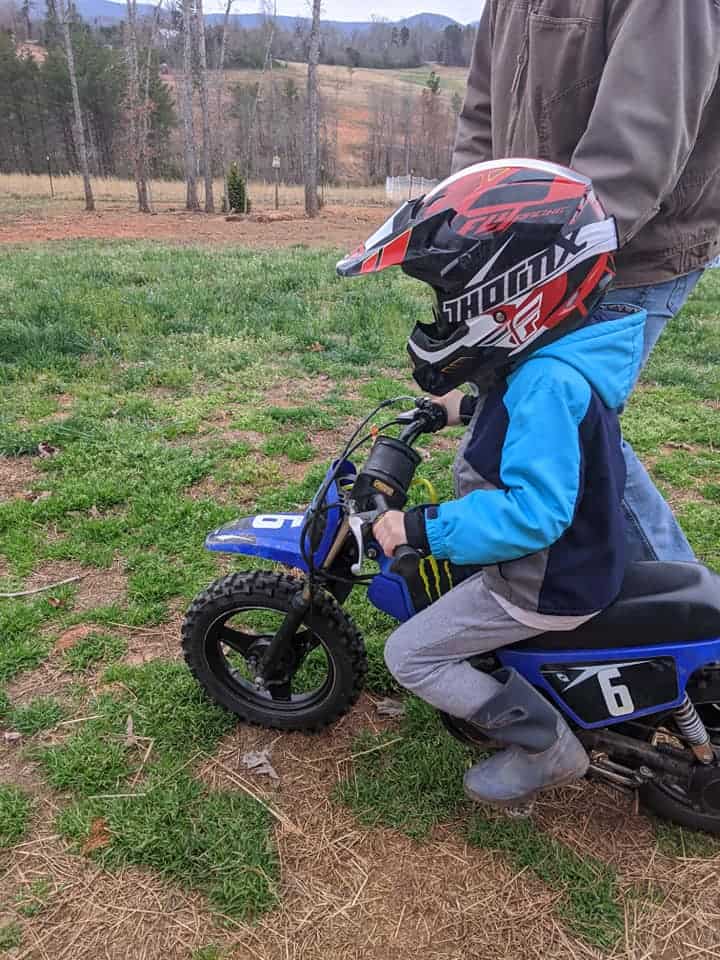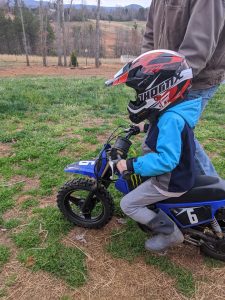 Camden loves the dirt bike now and zooms around the yard.  We just have to work on his breaking skills.  He wants to drag his feet to stop.  Uhhhh, NOOO!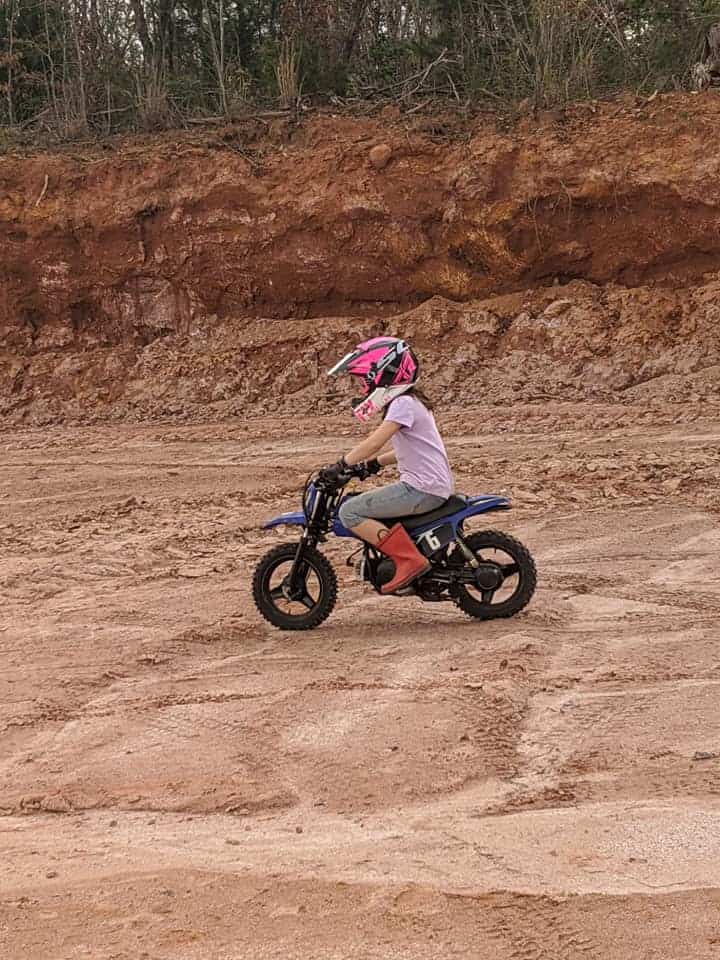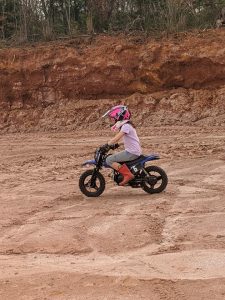 Maylin loved the dirt bike for the first second she took off.  However, I think that with her "need for speed" and her long legs she might be ready for a bigger size.  Please pray with me for her.  She has Jim's bravery and sometimes doesn't realize that danger is real.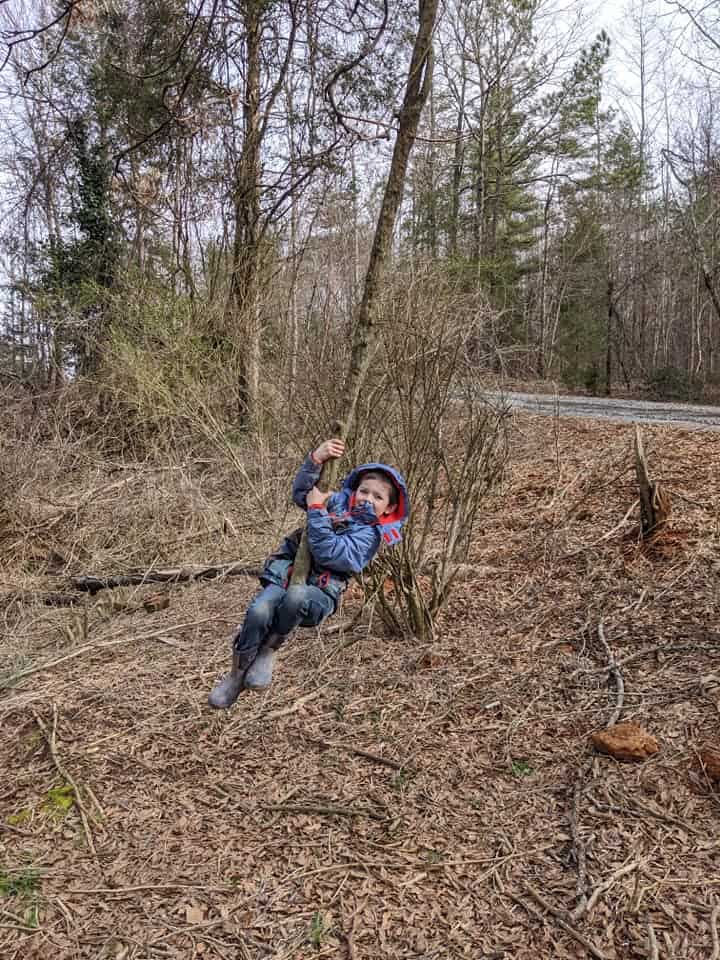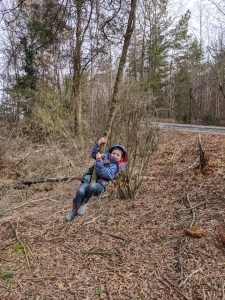 Camden is a master at finding things to entertain him while I get some things done.  I love his sense of adventure and his imagination.  He gets those from his wonderful Dad.
Since we couldn't go anywhere on the weekends, we spent that time doing work around the farm.  We started working on the cattle shute and alley.  Let's just say that it was a work in progress.  And still is!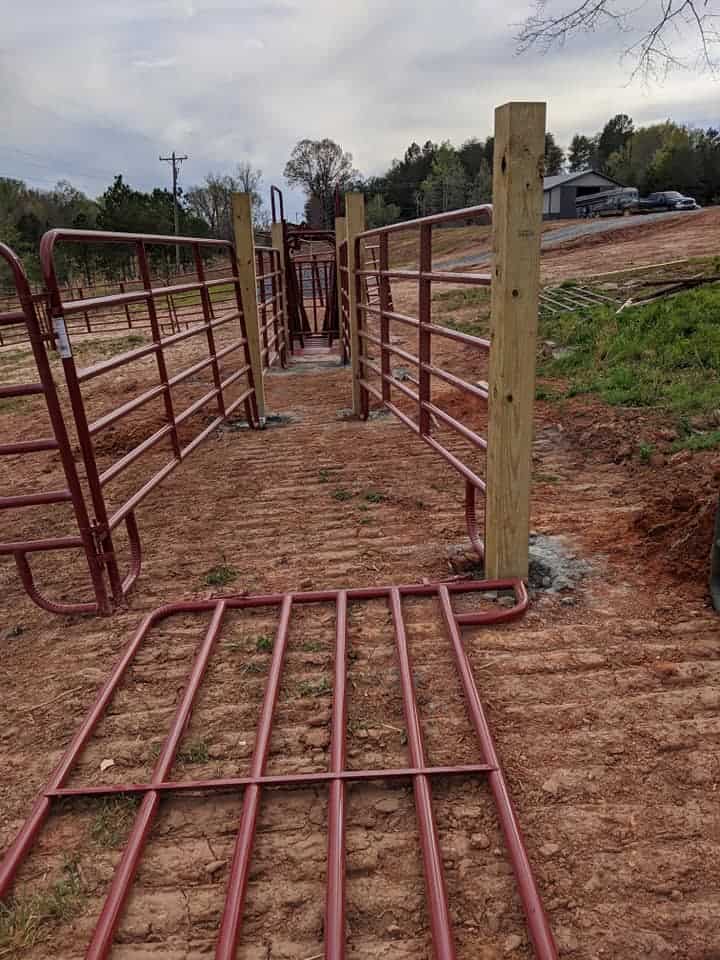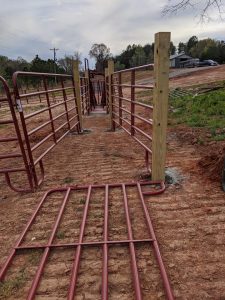 The cattle shute was delivered just before I tore my achilles' tendon so it's never really gotten finished.  Now is the time, Jim.  Let's get 'er done!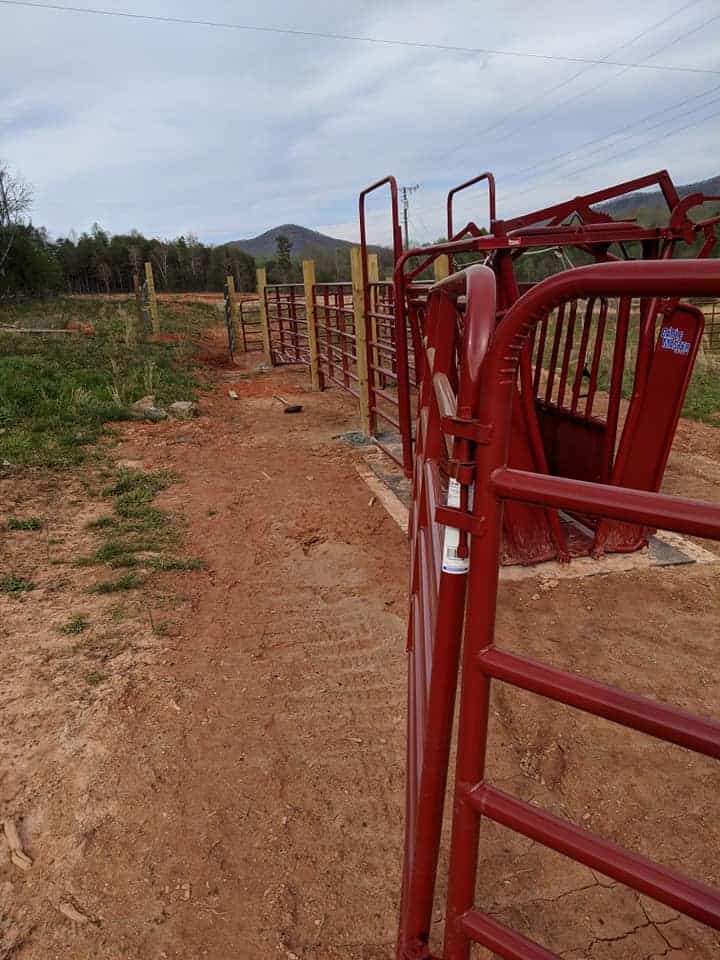 So, this is the almost finished alleyway leading to the squeeze shute.  Hopefully, it will be done….sometime this year.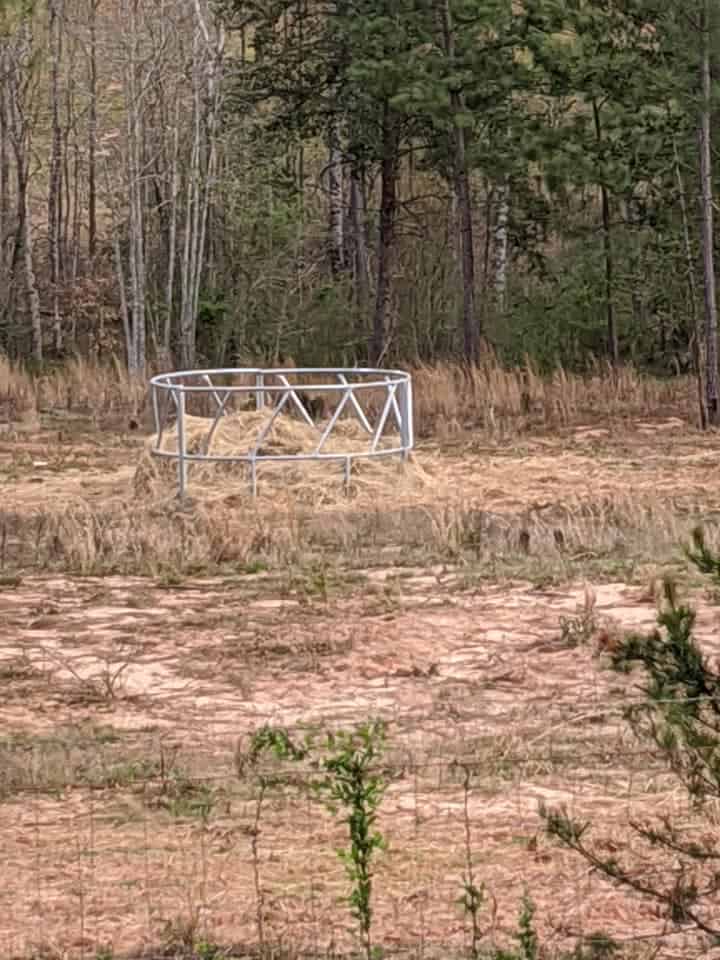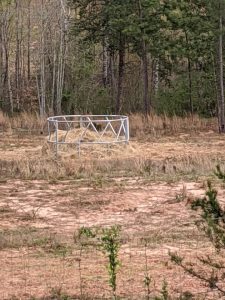 One morning I woke up extra early to get to the feed store before Jim and the kids even woke up.  I happened to find a hay ring on clearance sale and snatched it right up.  The cows were much appreciative since I could now put the whole roll of hay out there for them.  It made my life easier as well since I don't have to unroll the hay and toss it over the fence for them twice a day anymore.  Everyone is happy, happy, happy.
Moving on to another happy animal that is maybe not so bright though.  Turkeys are just not the brightest birds.  I think I've mentioned that before but I will probably say it at least a few hundred more times.  They are super sweet and super ridiculous.  Whew, these birds are something else!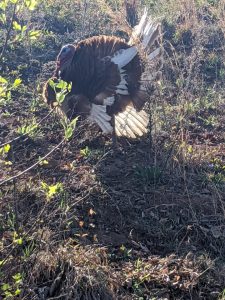 This lovely Tom Turkey is Pikachu.  Obviously, Cam named him.  Pikachu calls to everyone.  All the time.  He also follows you everywhere.  He cracks me up!  Every time I turn around there is Pikachu proudly showing off.  He's a trip for sure.
We had high hopes that the turkeys would be able to hatch out their own eggs.  Well, they might try but I'm not sure they will succeed at this point.  They keep laying more eggs every day!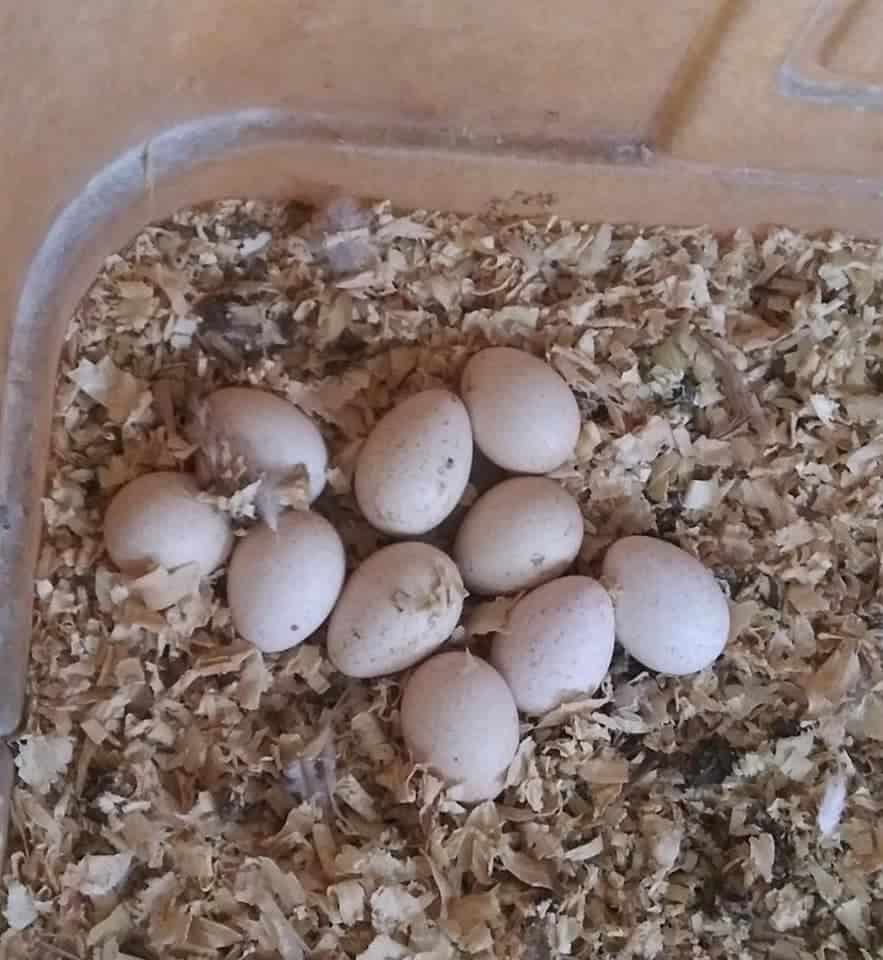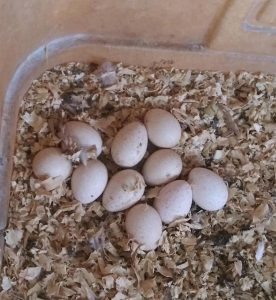 At one point they had over 30 eggs in the nest.  30 eggs!!  That's crazy for one bird to sit on.  Plus, if they keep laying more eggs everyday the new eggs won't hatch on the same day as the eggs laid 2 weeks ago that they've already been sitting on for 2 weeks.  It was crazy.  At this point, they would be sitting on eggs for the rest of the year as 2 more hatch every day and they lay 2 more.  That is some crazy nonsense.
So, we took 15 of the eggs up to the incubator in the hope that a few of them might hatch.  We had no idea if the eggs we took had been laid that day or 2 weeks ago which made incubating them tricky.  Incubating eggs require a high temperature and lower humidity for the first few weeks and then a lower temperature and much higher humidity when they are ready to hatch.  If you are off on the timing of the switch in temperature and humidity it can cause the chicks to drown in their eggs or to not be able to peck through their shells.  We figured we would at least try and hatch them and see what happened because their was no way that those silly birds would be able to hatch out 30+ eggs or more.  Especially since the egg count was growing everyday.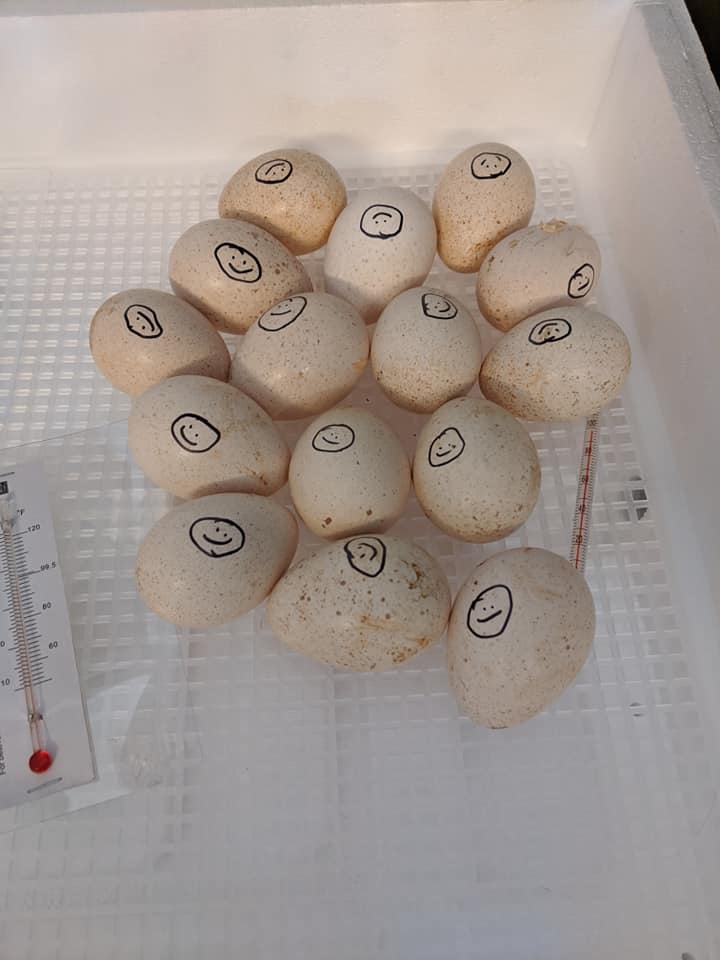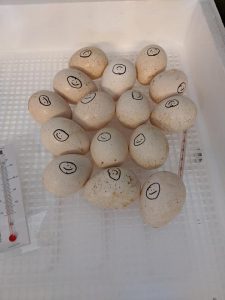 When I put the eggs in the incubator I put smiley faces on them instead of "X's" and "O's".  Smiley faces are just so much more pleasant to look at.  And more hopeful too.  We tried to candle them all and put them in groups as to how far developed they were.  Fingers crossed we will get the temperature/humidity switch right for all the eggs.
Maleah's chickens were laying well.  Maybe a little too well.  I noticed one of her birds not acting right.  She seemed to have poop stuck to her rear feathers which is not common.  Chickens are pretty clean animals actually.  When I went to look at her, we realized that she had a prolapsed vulva.  Yikes!  This isn't terribly uncommon in chickens but it's the first we've had to deal with.  So, I went to get my antiseptic and gloves and see if we could save this sweet hen.  Cleaning her up and fixing the problem wasn't hard at all actually.  The waiting to see if it would happen again or if the chicken would get an internal infection was the hard part.  We put her in a cage so we could keep an eye on her and we waited.  She produced a lovely egg every day and her nether regions looked great.  So we sprung her from quarantine and let her rejoin her friends.  Happy endings for everyone.  (I did not take pictures of the hen in distress because…well, who really wants to look at that if you don't have too???)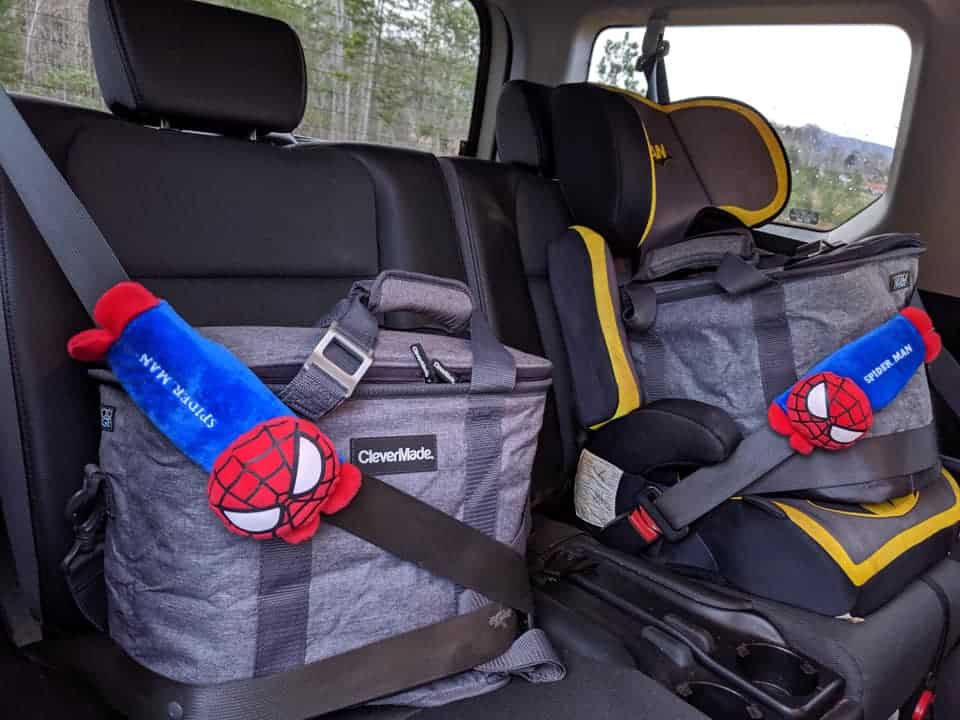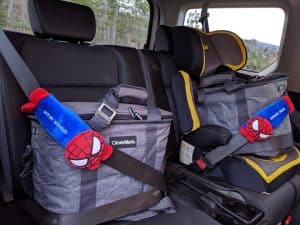 In February, we started talking about a new chicken barn for Maleah's growing flock.  She has 36 chickens now and has a waiting list of people and stores that want to buy eggs from her.  That is awesome!  We got prices on the building, concrete and grading work, power and water.  It was affordable enough that we thought she should do it.  So we went for it!  We are scheduled for the construction to start in late April or early May….depending on the virus.  Everything depends on the Corona virus right now, unfortunately.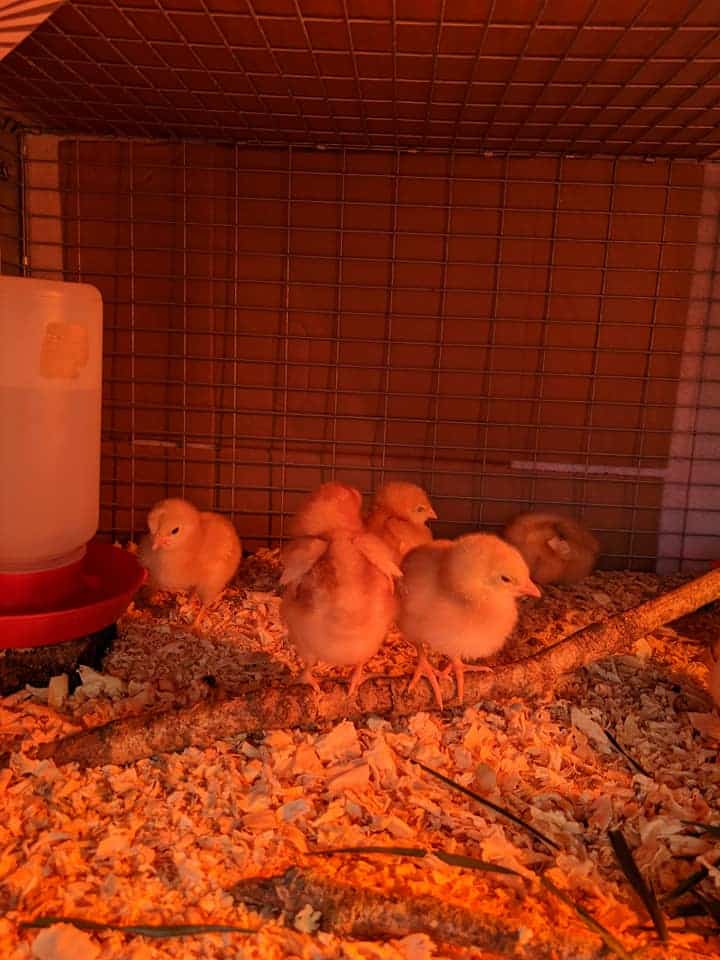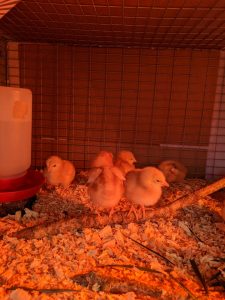 Maleah also decided that she wanted to raise some more chicks as future egg layers.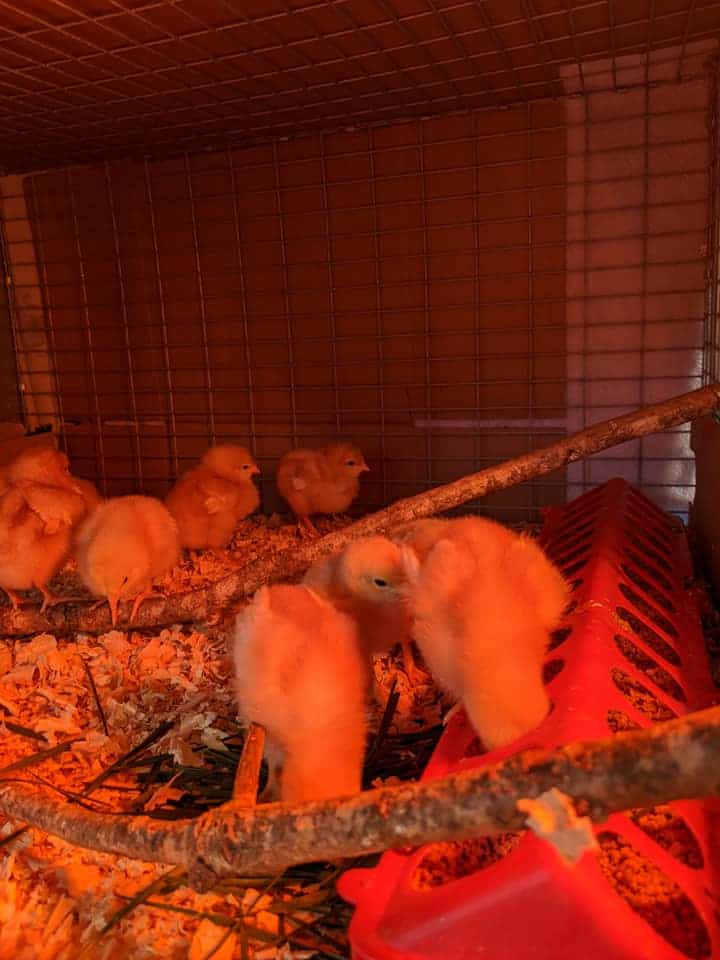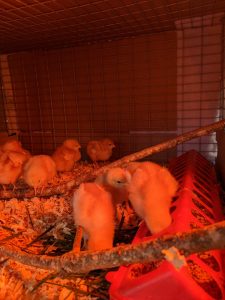 Welcome to the crazy farm fluff butts!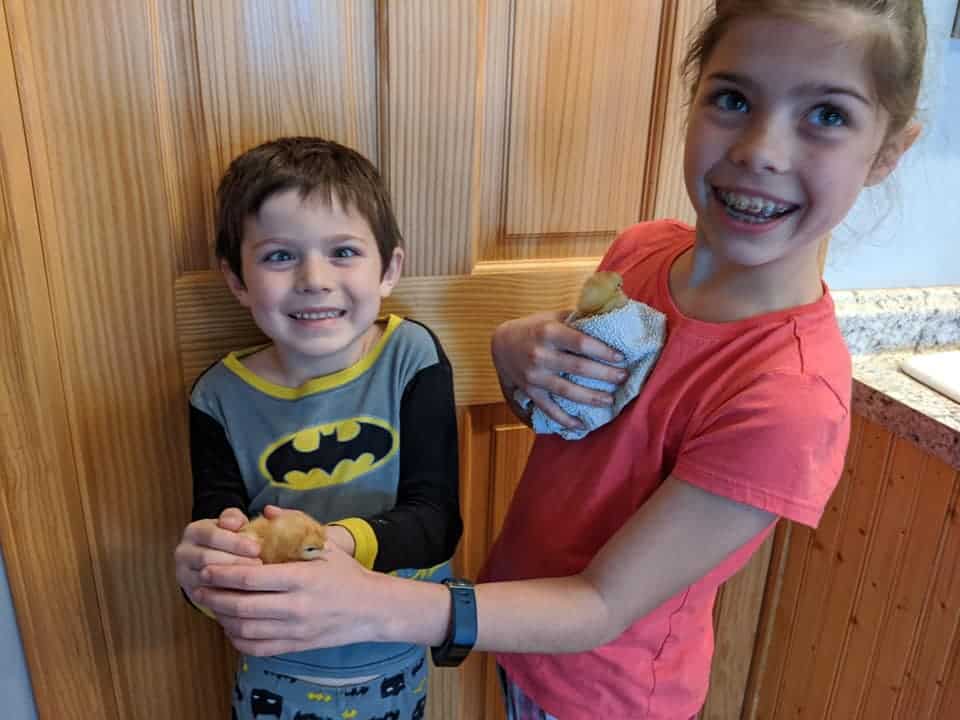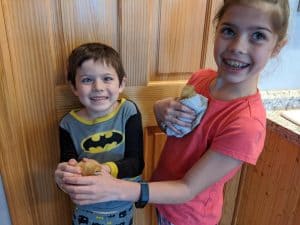 I think Maylin and Cam enjoyed the chicks just as much as Maleah.  Cam looks a little crazy in that picture….Hmm, maybe this quarantine is getting to him….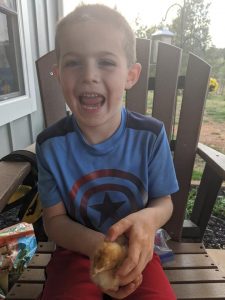 Camden really loves helping with the chicks.  He usually follows Maleah from the turkey coop to the chicken coop.  I love watching them.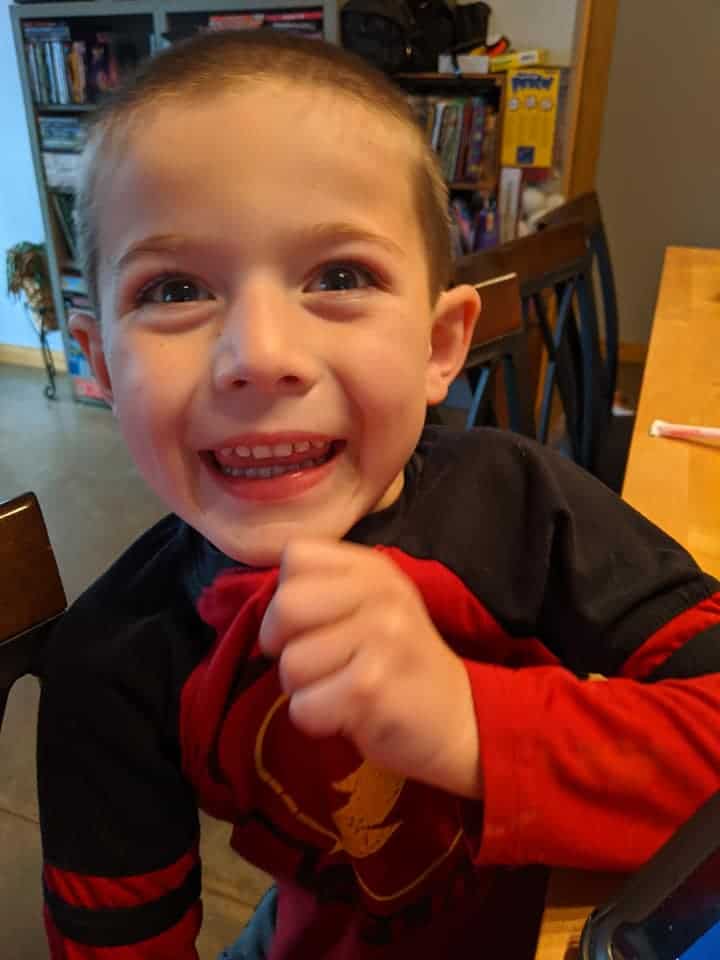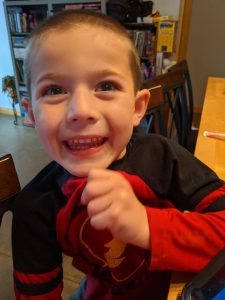 This little man decided he wanted his head shaved.  As much as I hated to do it, he looked ADORABLE!  Jim decided he wanted his head shaved too.  Uh, No.  I have to draw the line there, buddy.  Sorry, Jim!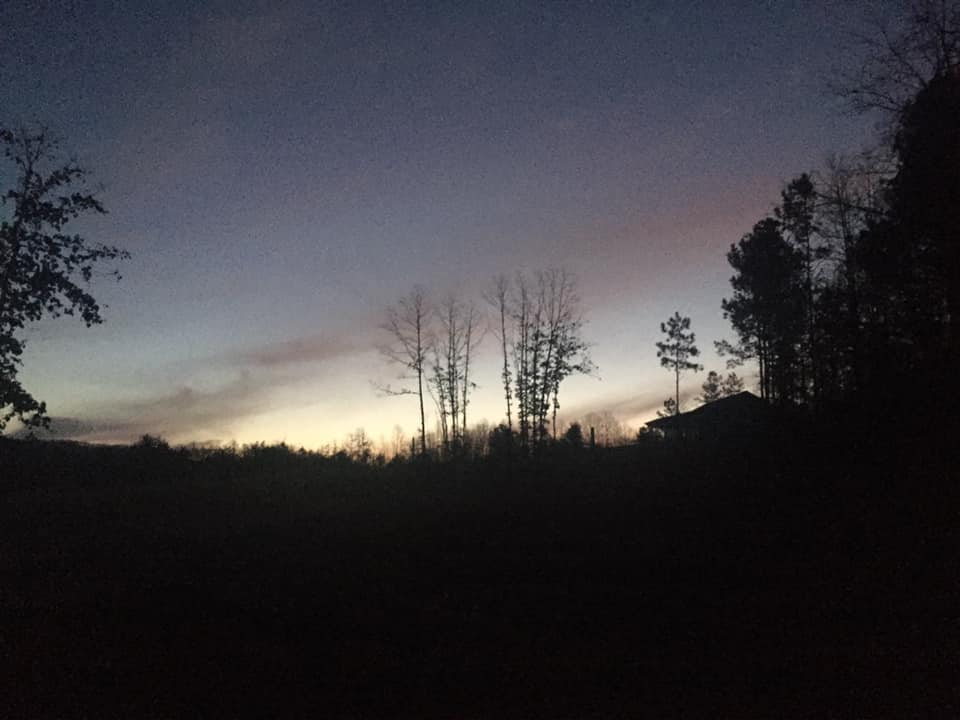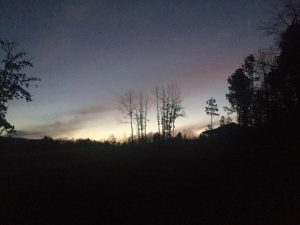 So, that pretty much wraps up our Corona Virus chronicles of March.  Let's see what new adventures April throws at us.