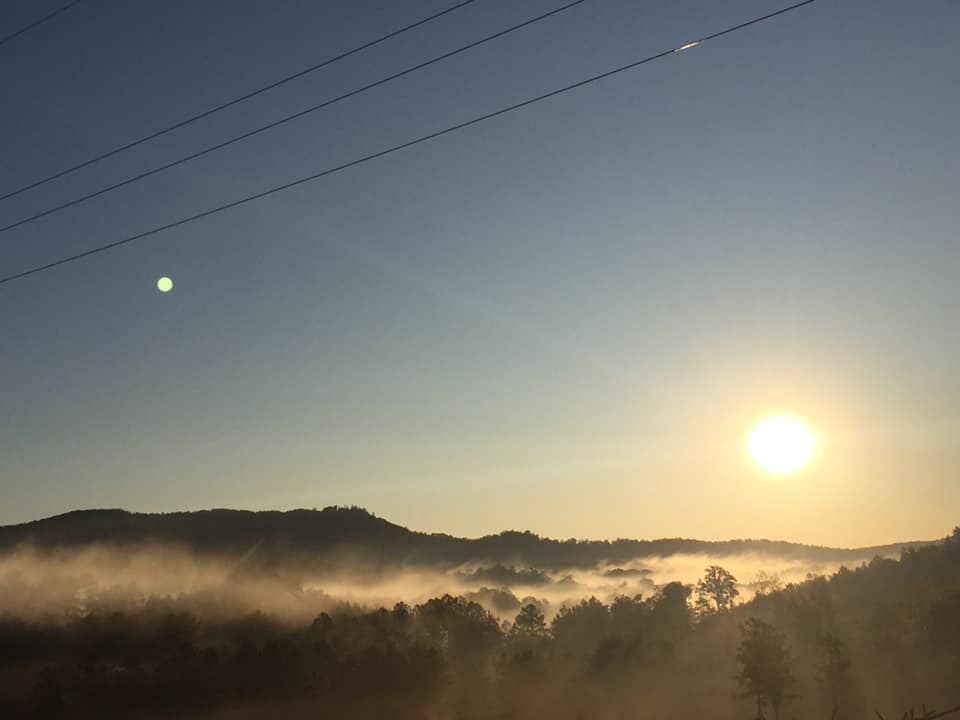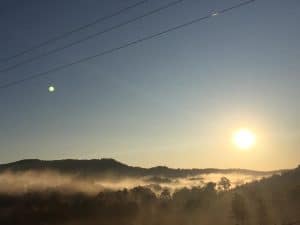 October started out hot.  Really hot.  96 degrees worth of hot actually.  That's insane for fall weather!  But it couldn't last forever.  And it didn't.  When the heat finally ended.  It really ended fast.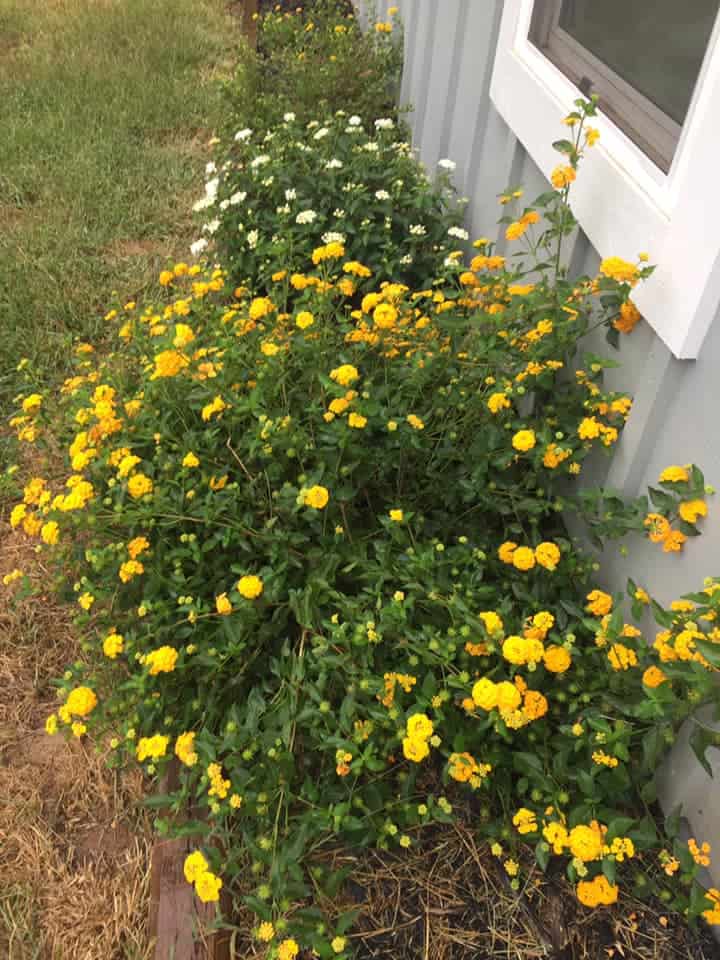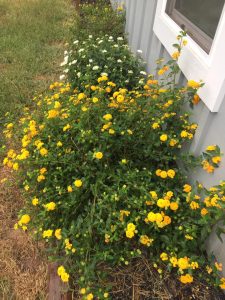 This was what our flower beds looked like at the beginning of October.  It's certainly beautiful, but not necessarily normal for fall weather.  Crazy.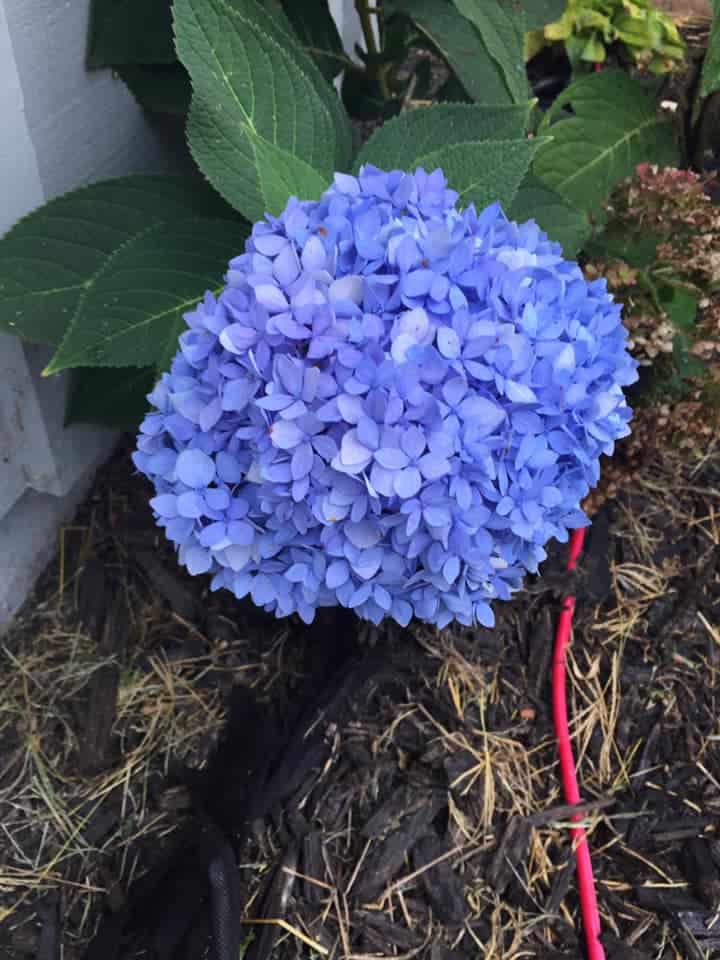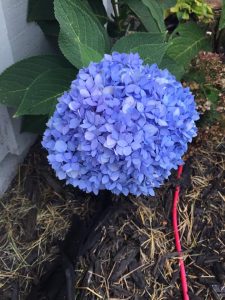 Everything was blooming and looked more like spring than fall.
One day it was 96 degrees and the next it was 56.  Wow!  Talk about shock.  We went from shorts and T-shirts to coats and gloves basically.  Our animals were in shock as well.  When temperatures swing that dramatically that fast I always worry about their water intake.  Colic is only a minute away when the weather is that crazy.  I watched Desi like a hawk but she handled the crazy weather like the veteran she is.  After 30 plus years on this earth, she's pretty good at going with the flow.  I love my old gal!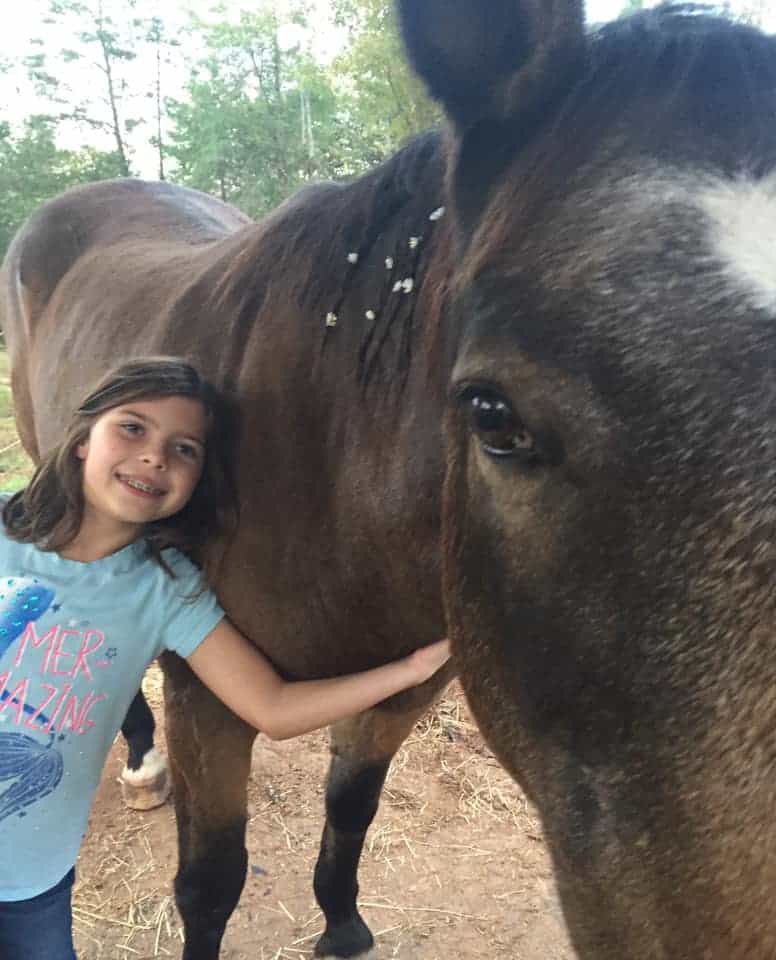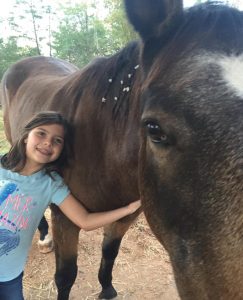 Maylin takes every opportunity to give Desi the "royal spa treatment".  Desi certainly deserves it!!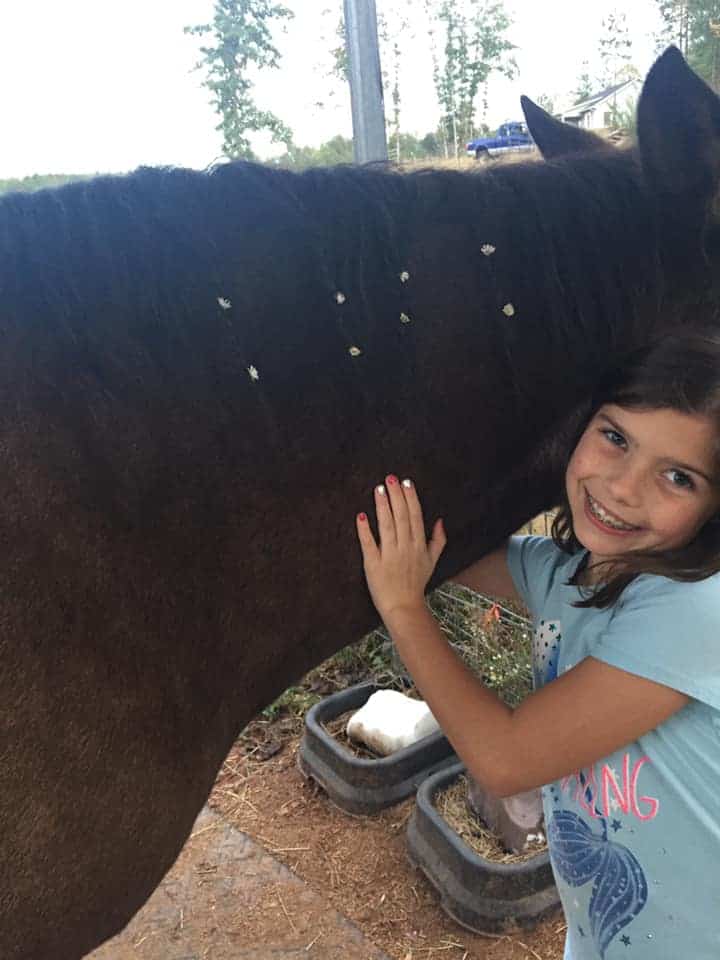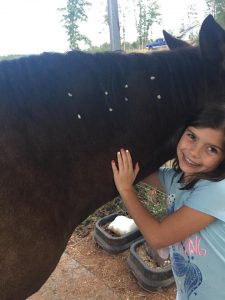 I'm not sure if Desi likes the braids or flowers, but she sure does love the attention.
Daisy, our very pregnant jersey cow, didn't handle the weather change quite as gracefully as Desi though.  She got a little carried away with her grazing without the 96 degree sun beating down on her back all day.  Without the heat she didn't have to stop eating at lunchtime and find shade to cool off in.  She apparently ate all day and her already cramped rumen didn't have enough space for all the gases building up with the baby pressing on it so much.  We came home from the fair and her left side was so swollen and tight that I was amazed she was still standing.  Just in front of her left hip was as hard as a rock.  Not a great sign for a pregnant mamma.  Desi definitely wasn't acting like herself but surprisingly she wasn't completely miserable either.  She was even trying to eat the occasional nibble of grass.  Goofy cow!  She is ALWAYS eating!  She didn't seem to realize that overeating was the cause of her problem.  Honestly, I can't criticize the cow too much.  I love my food as well.
Of course, our regular vet was out of town and all the other vets were busy with colic cases so we alternated between really firm massaging of her left side and short walks to keep her moving but not wear her out.  Daisy is HUGE right now.  She looks like she is pregnant with a full grown elephant so even short walks can get her breathing hard.  We even got her to lick a little baking soda off my hand to help with the gas building up in her rumen.  Thankfully, it only took a few hours for her to start burping and eventually she started chewing the massive amounts of cud she had built up.  I kept checking on her all night and firmly massaging her side to help alleviate some of the gases and keep her burping.  By morning she was much better with only a slight tightness on her left side.  I, on the other hand, was exhausted.  Can I just sleep all day please??  Now, that would be one for the record books!  Ha, ha!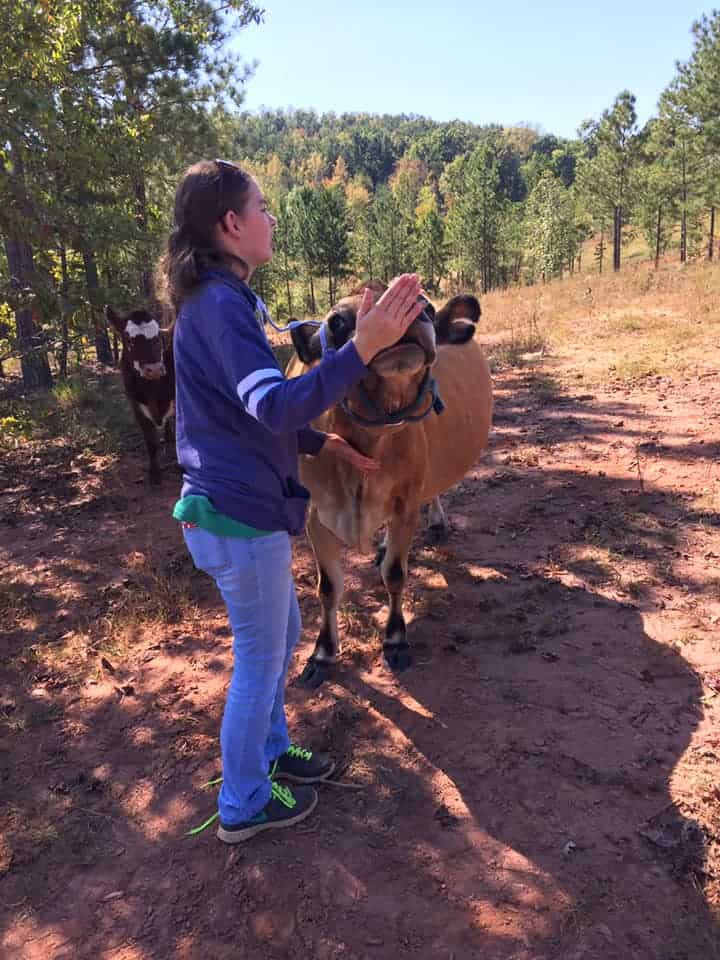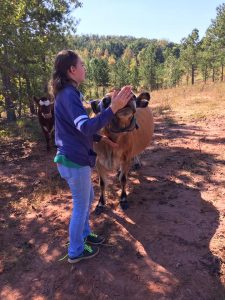 This was Daisy a few days before she officially became known as our "pig".  She loves licking her people…when she's not too busy eating everything in sight!
The Saturday that Daisy decided to be a pig and not stop eating all day was also the day that we decided to go to the Cleveland county fair.  The weather was so cool and nice andwe had lots of fun!
So, of course, I will share lots of fun fair pictures now.  Ready?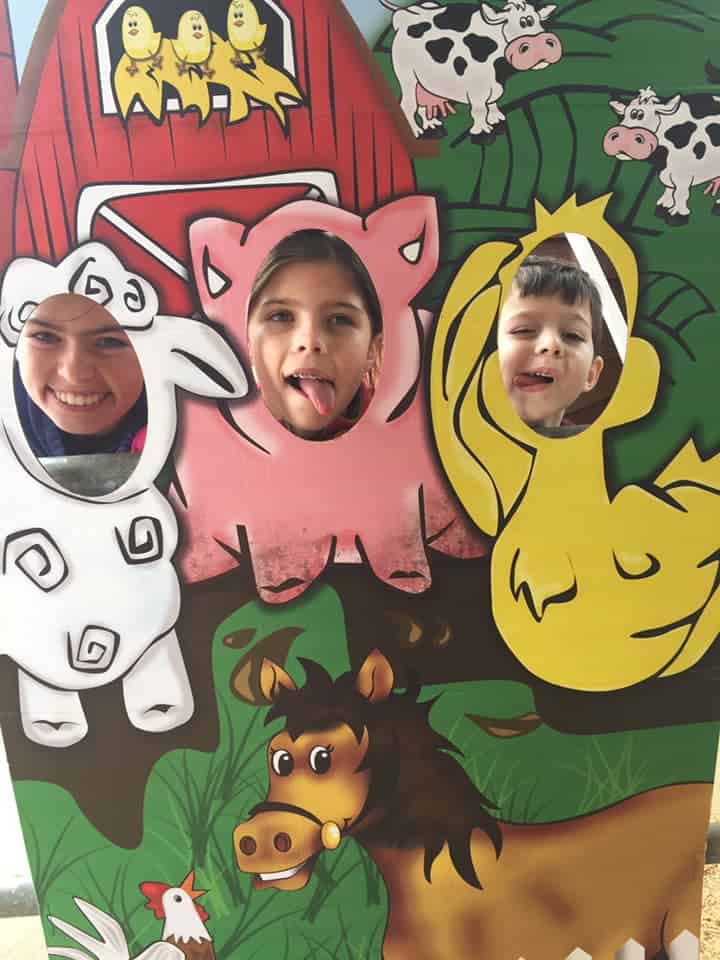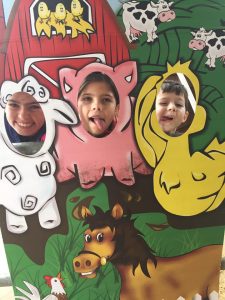 My crazy critters and their silly faces.  Love, love, love them!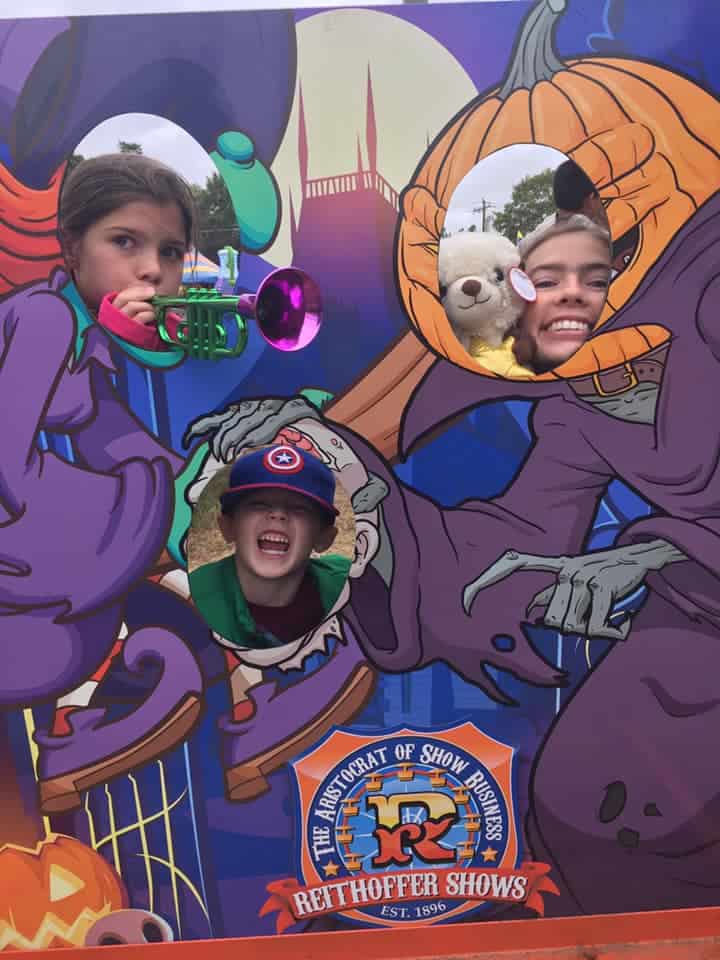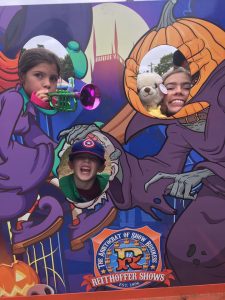 More crazy critter photos.  Who needs crazy animal photos when I have these guys???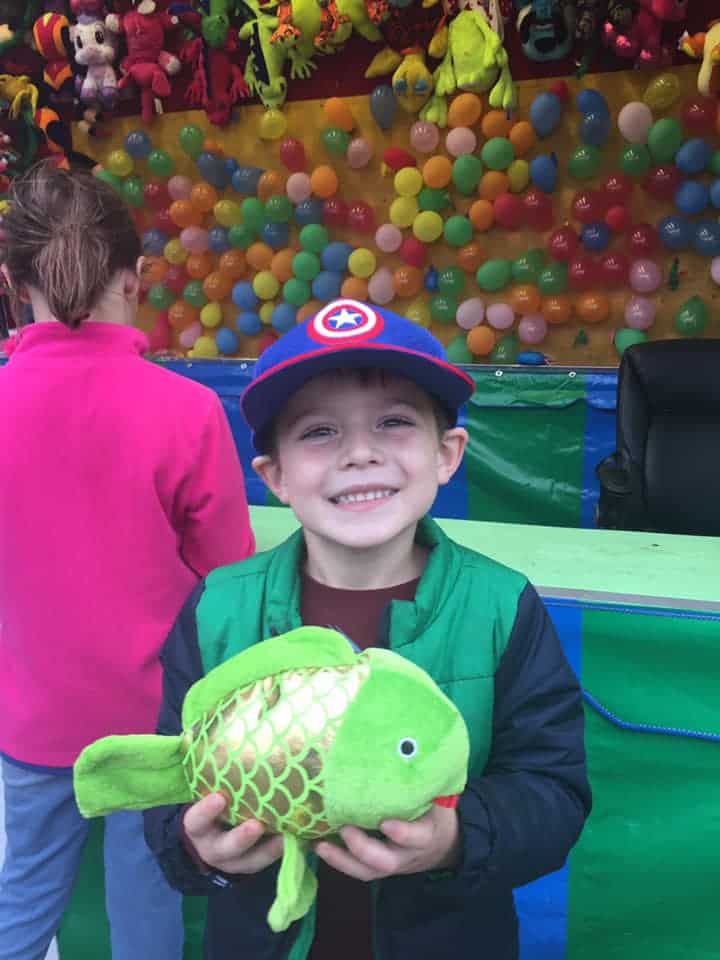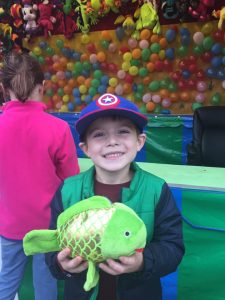 This year the kids enjoyed playing games and winning prizes more than the rides.  Who knew?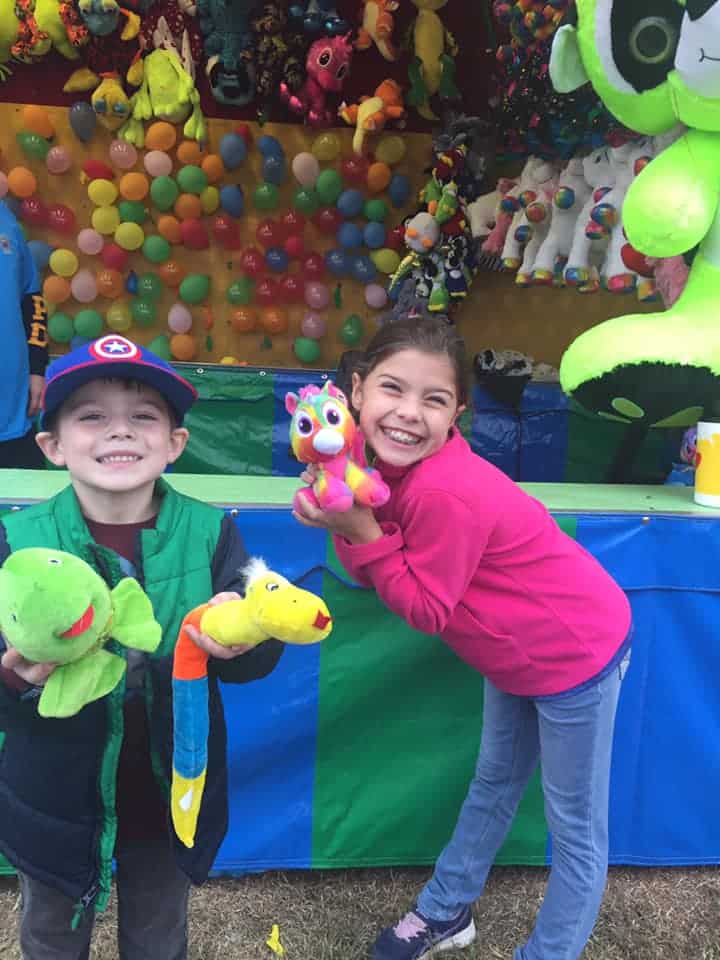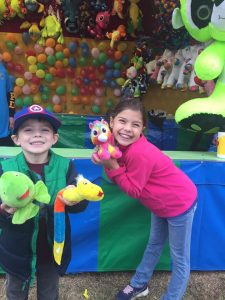 At the end of the day we had more prizes than we could carry!  This picture of Maylin sums up her personality so well!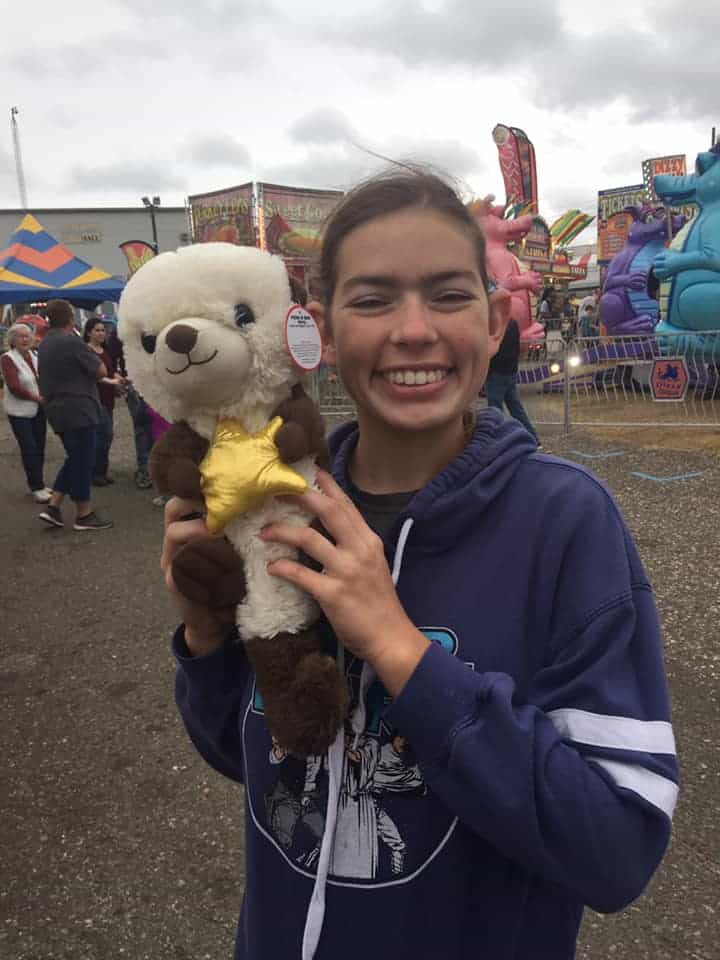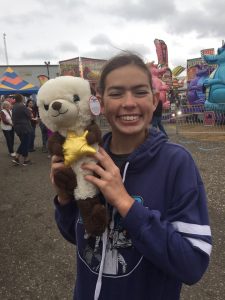 Maleah won an otter, which our dog has since claimed as his toy.  Sorry, Maleah!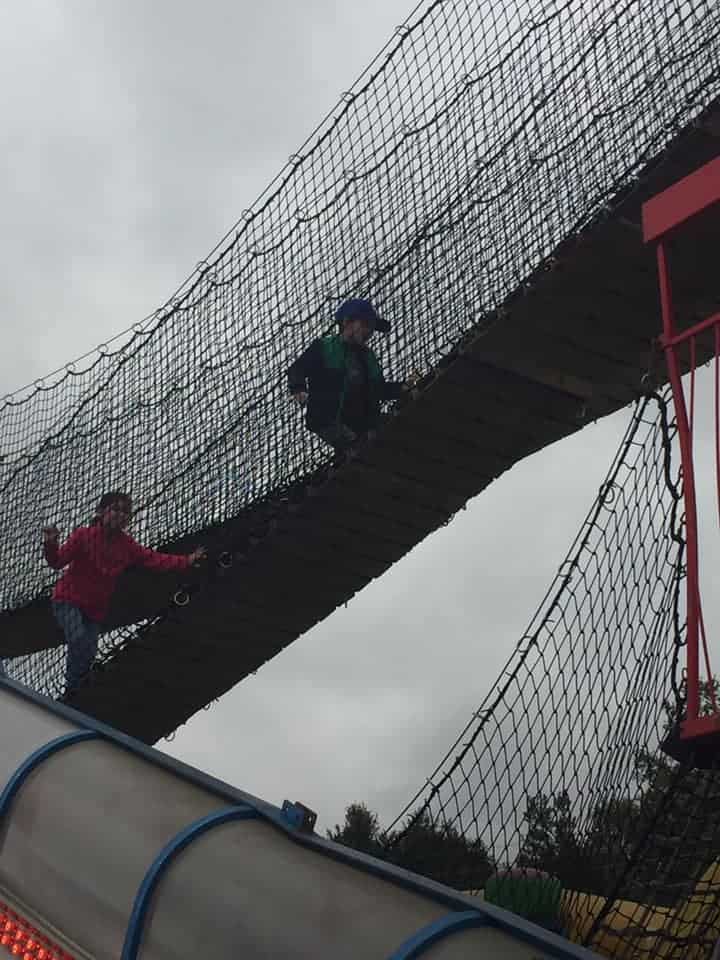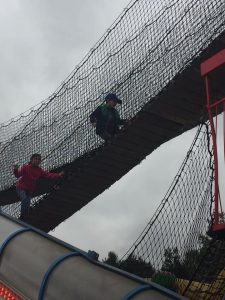 Maylin does the best job keeping up with Camden.  She is such a good big sister.  I'm a little biased, but I think I have some pretty special kiddos.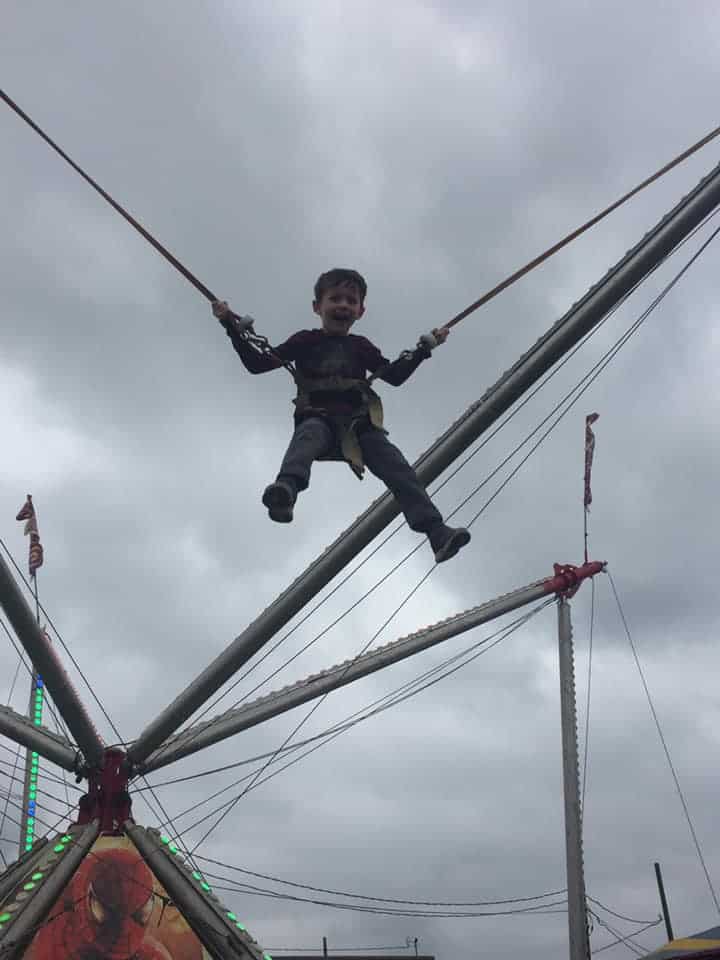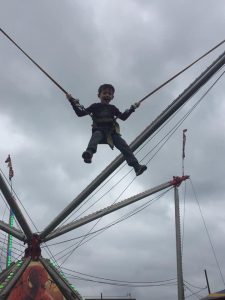 Next up…High-flying adventures with Camden.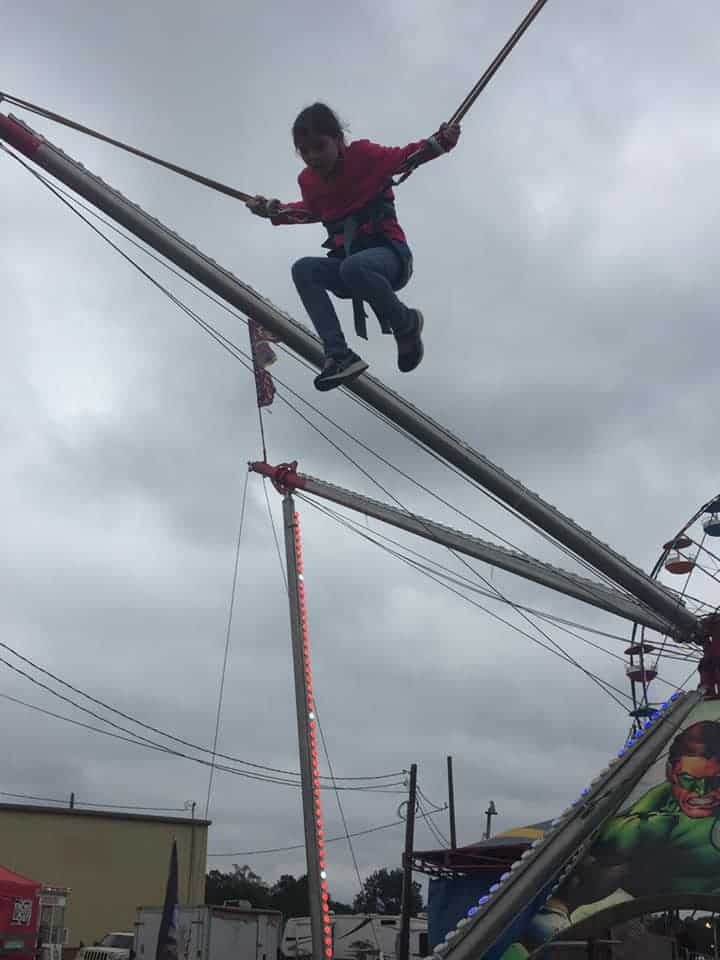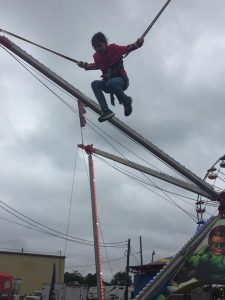 And then…Really high-flying adventures with Maylin!
A few days after the fair we had some more rain which meant it was the perfect time to go for a walk and see Jim's progress with the dozer work.  What dozer work you ask?  Well….be patient and you'll find out..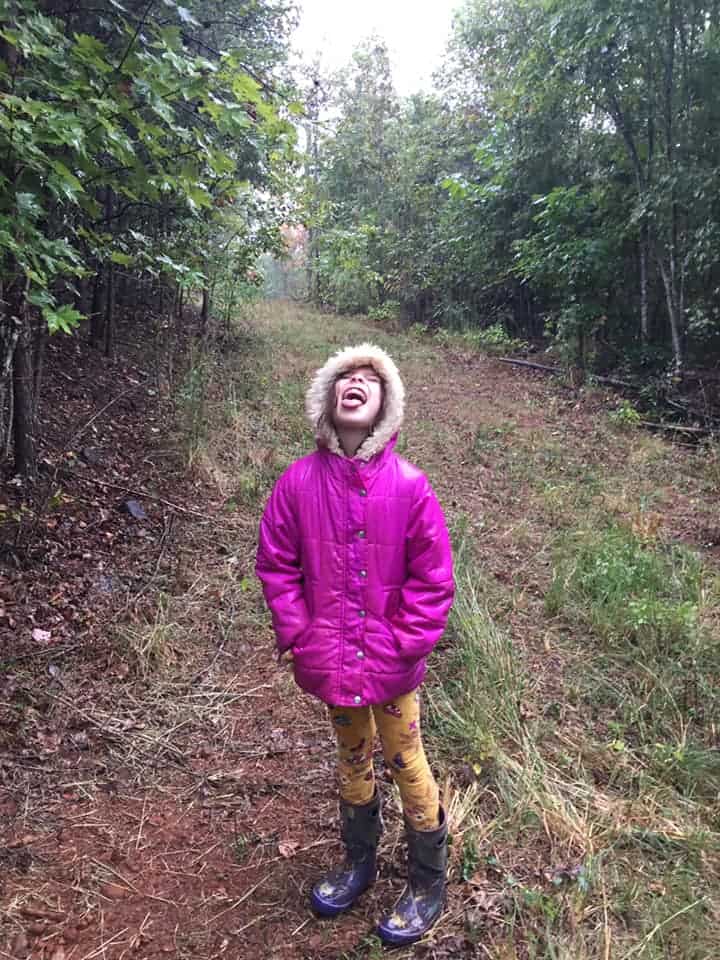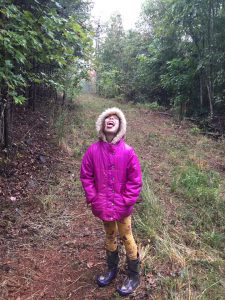 There's nothing like trying to catch a raindrop with your tongue.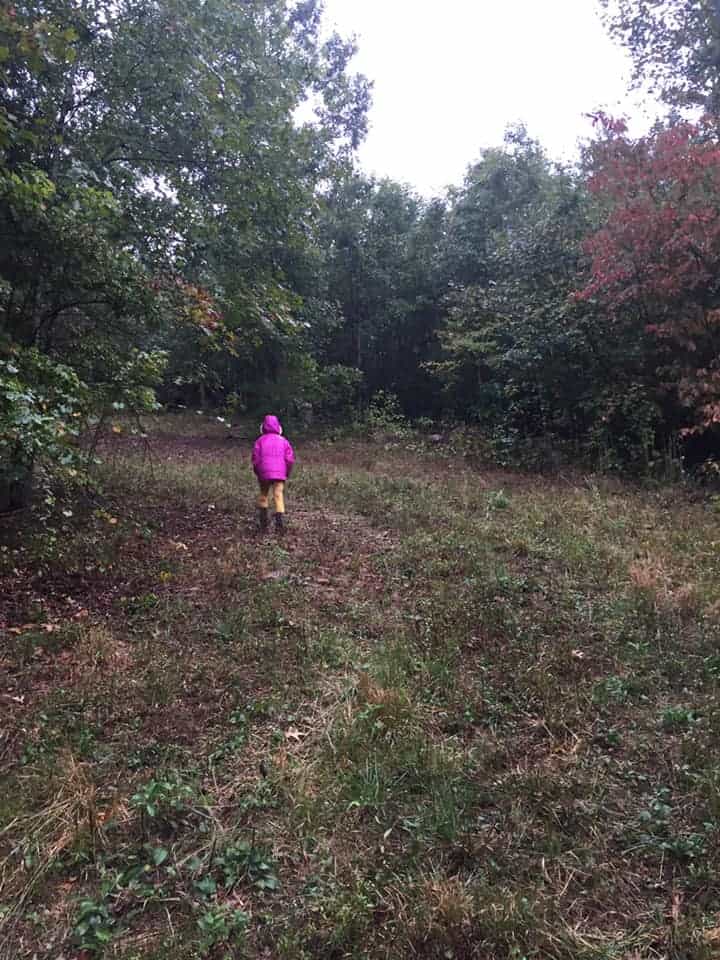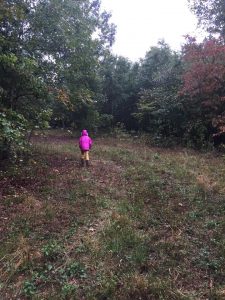 My little leader. Better known as Ms. Independent around these parts.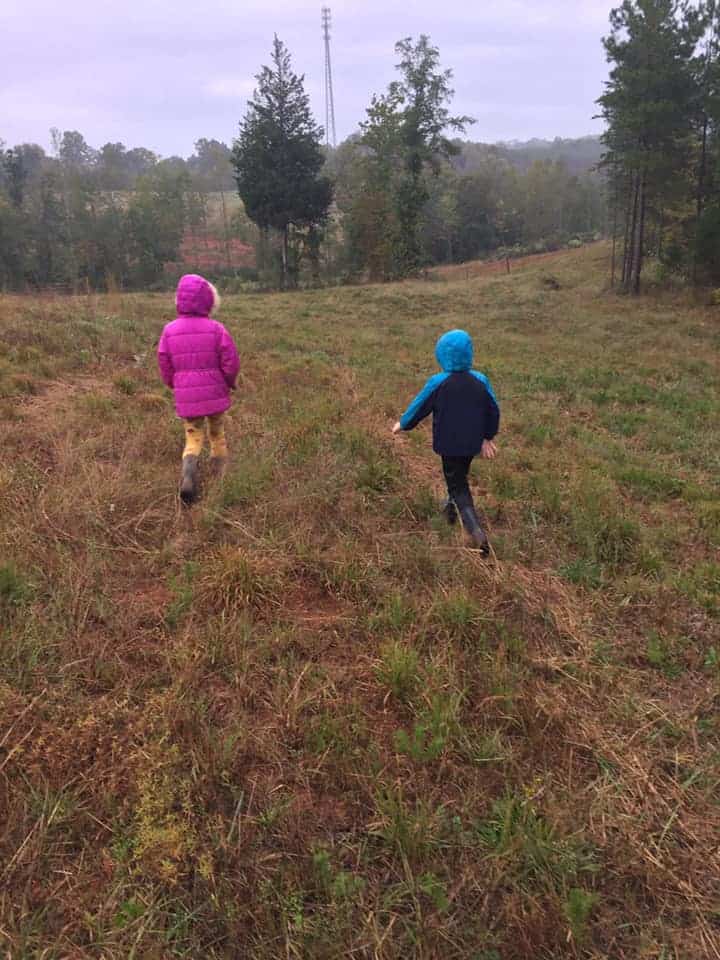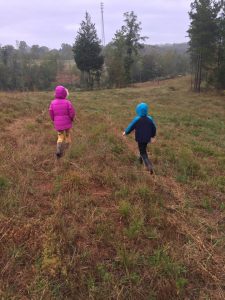 Maleah wasn't feeling well and stayed at the house.  These two tromped through the rain though and loved every minute of it.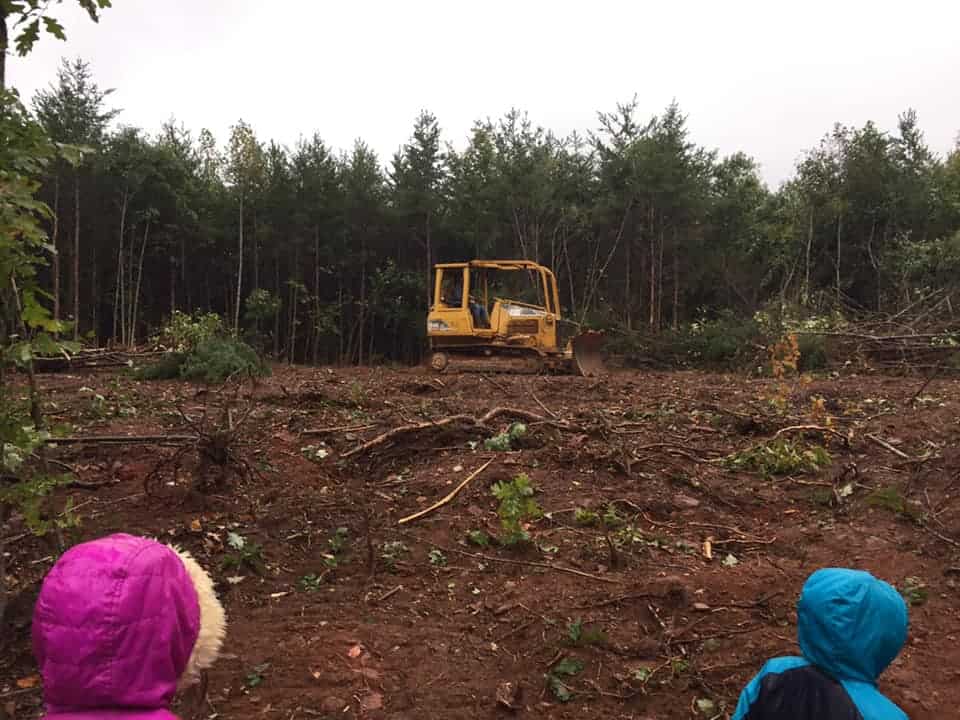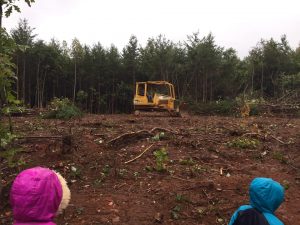 We finally reached our Daddy and the dozer work.  Ta-dah!  Eventually this will be our new house site.  Eventually.  Maybe in a year or two.  I hope.  I pray!  We love our little house but it is cramped.  Our plan has always been to build our dream house on this knoll that overlooks the whole farm and has a lovely 360 degree view.  We hope to eventually use the house we live in now as a farm vacation rental.  One day….
The weekend after the fair we decided to get more chickens.  Crazy, right?  I know, I know.  It really is!  But Maleah continues to sell out of her eggs each week and we've had to turn away several potential customers.  Maleah seems to enjoy taking care of the chickens and turkeys and it's making her a good little bit of money.  So why not add 15 more chicks?  Because it will make my life more crazy?  Yeah, that's not a good enough reason to say no to my kids or to more animals.  So, of course, I said yes.  Yes, bring on some more crazy please!
Off we went to buy 15 four month old chickens.  Then we promptly came home and gave them all baths.  They were pretty stinky and I was worried about mites and lice although I couldn't find any on them when I inspected their nether regions.  Better safe than sorry though.  Rub-a-dub-dub there's a chicken in the tub.  HA!  We were so busy cleaning the birds that I didn't take a single picture of those little cuties.  And some of them are certainly cuties!  I will try to get pictures of them soon….
While the kids and I bathed and set up the new ladies in their quarantined space well away from our other hens, Jim and his Dad worked on the outside of the tack room walls so we could put up the door.  Whoo-hoo!  Almost there!!  They almost got it all finished that day.  Almost.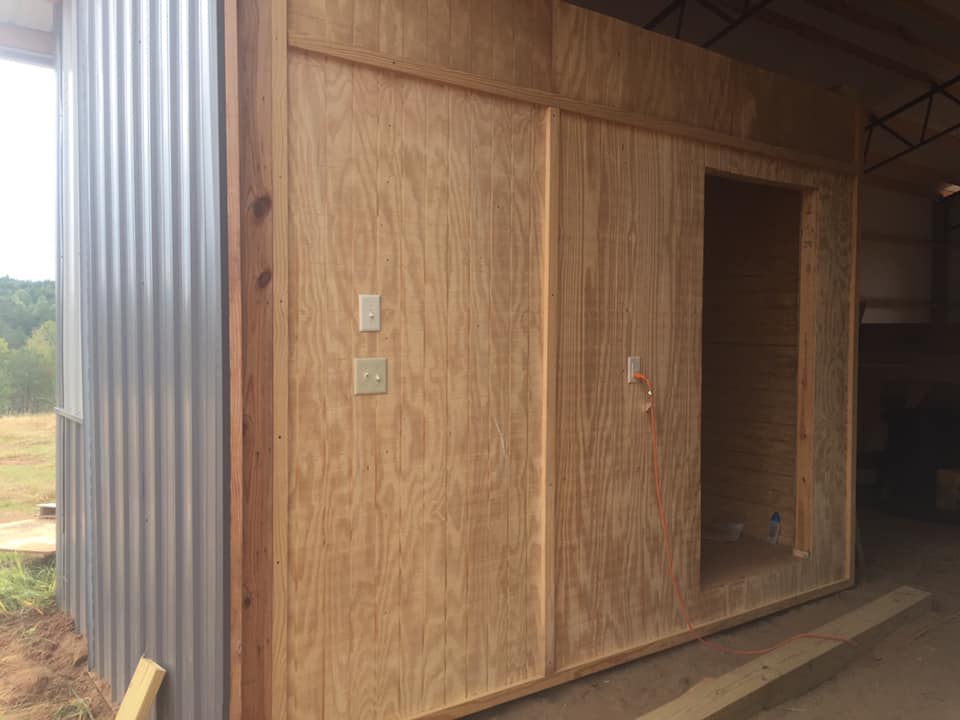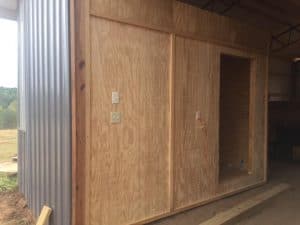 It looks amazing!!  All that's missing is the door.  And a lock.  And a deadbolt.  And a security system apparently….
They decided it would be best to call it a day and finish putting in the door on Tuesday morning.  For ease, Mackey left all his tools at the barn.  It had been months and no one had ever messed with our stuff at the barn.  Why would we think that someone would mess with his stuff after all this time?
Well, we were wrong.  Very wrong.
Tuesday morning Mackey got to the barn before Jim and called to tell him that all our stuff was gone.  All of it.  Everything except the ladders.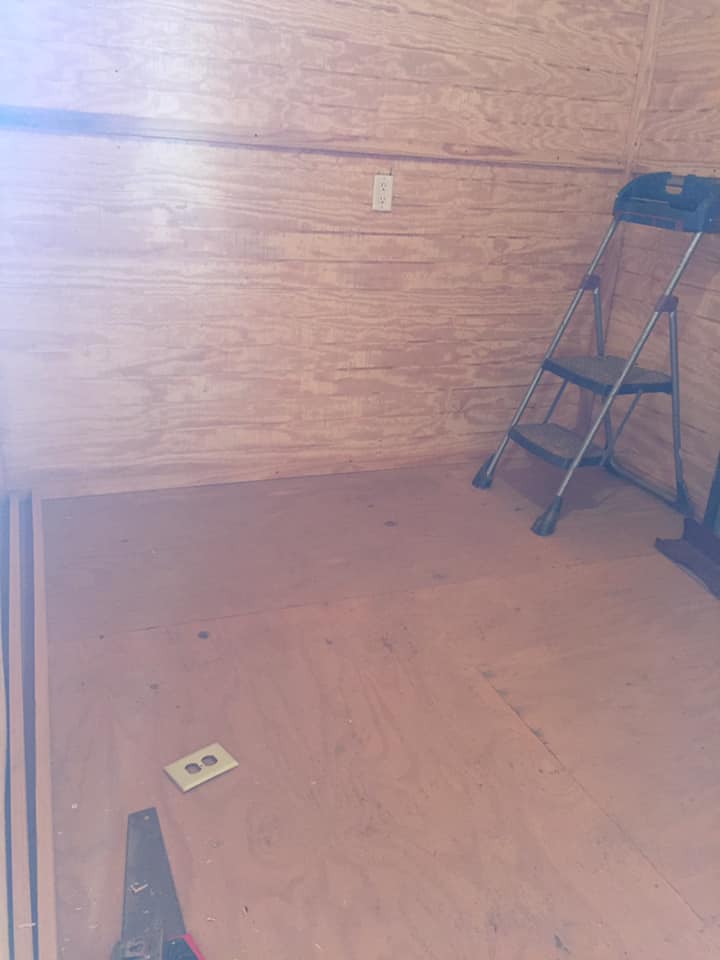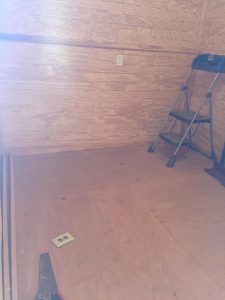 This was where Mackey's table saw, nail gun and compressor, buckets and buckets of tools and about a page worth of other equipment was the night before.  Our tools were in there as well and the wheelbarrow and generator were in one of the stalls.  They took all of it.  I was speechless.
The detectives came out and took the report for all Mackey's tools and all our tools and generator.  And that was pretty much it.  Thousands of dollars worth of stuff was missing and sadly they couldn't do very much.  Although the wheelbarrow tracks led across the mud to the driveway next door and then down to the road, they didn't have probable cause to search or even question the people next door.  I will admit that the house next door is a bit of a troubled spot and we have really wanted to buy that place for years now.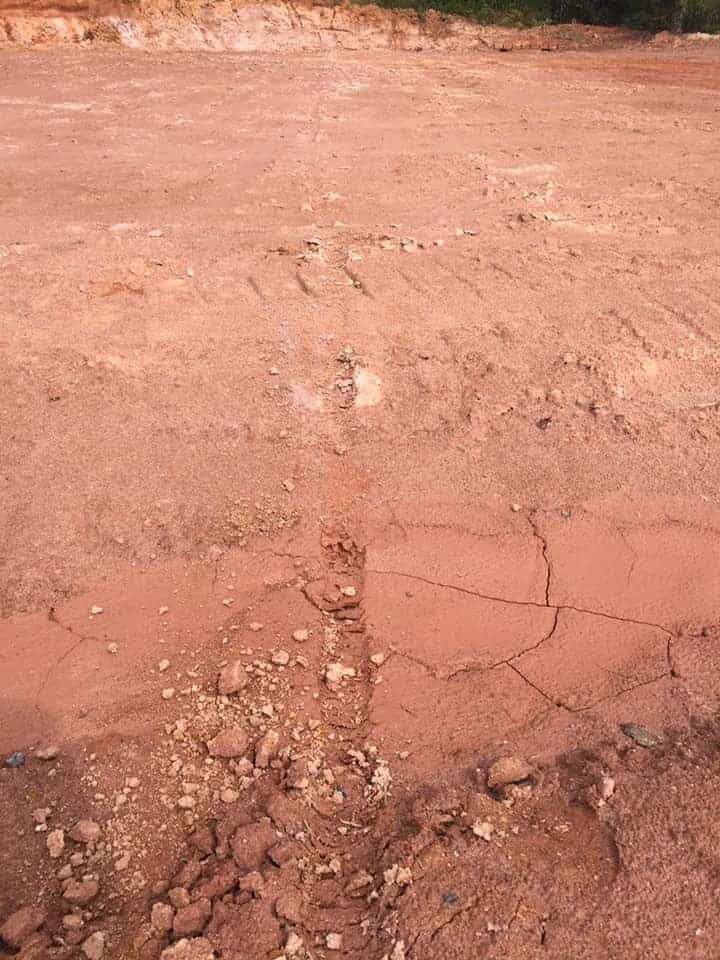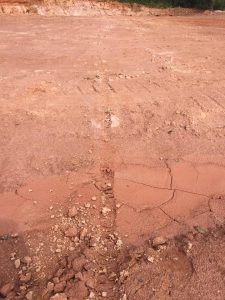 These are the wheelbarrow tracks that led to the neighbor's yard.  Crazy, right???  It's a little hard to see in this photo, but the bank at the end is where they drug all our stuff up the bank and then back down on the neighbor's driveway and then to the road apparently.  Since the tracks led to the road and not directly to the house they couldn't do much.  The house next door had no power at the time and they couldn't find the people who were still living there on and off.  Ironically, only a few days after we were robbed the people next door came up with the money to have their power turned back on and move back in.  I certainly have no proof that they took our stuff but I have a feeling they probably know who did.
We decided that now was the best time to try to buy the house next door so we could control what goes on there.  The trouble we ran into was that no one could get ahold of the people who owned the house.  We tried.  Our realtor tried.  Nothing.  We left messages and sent letters letting them know we would like to make an offer.  Nothing.  So, for now, we are stuck with our farm going around 3 sides of a 1 acre parcel of not so nice people who quite possibly robbed or know who robbed our barn.  Honestly, I don't have anything else to say about the situation that is nice so I will just move on to some of the other crazy things that happened in October. Lets, move on shall we?  Yes, please.
There was no shortage of Carter craziness this October.  Whew!  Where do I start?
The barn was robbed on a Tuesday morning.  That day we spent the morning with detectives and taking care of sick kids.  Maylin had a nasty cold that I was worried about and Camden was a little puny too.  However, Maylin was feeling a little better by supper time so I left her and Camden with Jim and took Maleah to town for her knitting class.  Then, I went to TSC to look at trail cameras as temporary security at the barn until we found a better option.  Big mistake!  I wish I could have a do over.
I walked out of the parking lot and stepped in a hole.  Not even a big hole.  Just a small hole that was more like uneven pavement really and my heel snapped.  I thought someone had kicked my heel out from under me but no one was around me at the time.  I literally hopped the rest of the way to the car.  I limped in to pick up Maleah and went home to cry basically.  The throbbing in my heel and calf was quite uncomfortable to say the least.  It made for a very long night.
The next moring was the Pastured Pork workshop that Jim, Maleah and I were looking forward to attending.  It was an outdoor event and it was raining pretty steadily that morning.  I convinced myself I could make it….until I tried to put my foot in my boot.  Not gonna happen!  I  couldn't flex my foot without shooting pain in my heel and calf.  Jim saw me crying and took me to the Urgent Care in town despite my protests for them to go to the class without me.
The Dr at the Urgnet Care promptly sent me to an Ortho dr. in Hendersonville.  Several hours, multiple x-rays and ultrasounds later they told me I had 2 partial tears in my Achilles tendon and a tear in my Plantaris muscle.  How fun!  Said no one ever!  Everyone I've ever known who's torn their Achilles tendon has had a really athletic story to tell.  They were playing tennis or baseball, or maybe chasing their kids or jumping on a trampoline.  Not me.  Nope.  I get to tell everyone I stepped in a small pothole.  That is so ridiculously embarrassing!  I mean, come on, at least I could've been feeding the animals hay and stepped in a hole.  Or I could've been chasing a crazy chicken or flighty turkey.  Maybe even playing with the kids.  But Noooooo.  I get to say I stepped in a hole.  It's so sad that it's quite comical really.  Feel free to laugh.  I know I have many, many, many times.
Thankfully, I didn't have to have surgery to repair the tears in my heel and calf.  Just 2 weeks of crutches and an air cast.  Then I was able to slowly transition to full weight-bearing while still wearing the air cast for another 4 weeks.  That's a lot of weeks in an air cast with restrictions!  Let's just say that I'm not the best patient if it involves confinement.  Yeah, we'll leave it at that, shall we?  Thank you!  I'm sure Jim will be glad to tell you of all my violations while I was supposed to be resting.  It's just so hard to watch every one else do my work!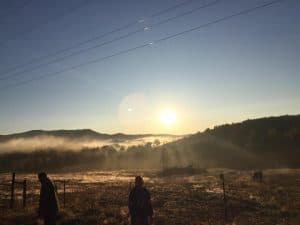 Jim and the kids really did work without me though.  It was hard for me to watch and yet it made me so happy to watch them take care of all the animals!  Jim and Maleah were great about getting up early and feeding the animals while I took the kids to school-because I could still drive!  Thank you Lord that I injured my left foot instead of my right!!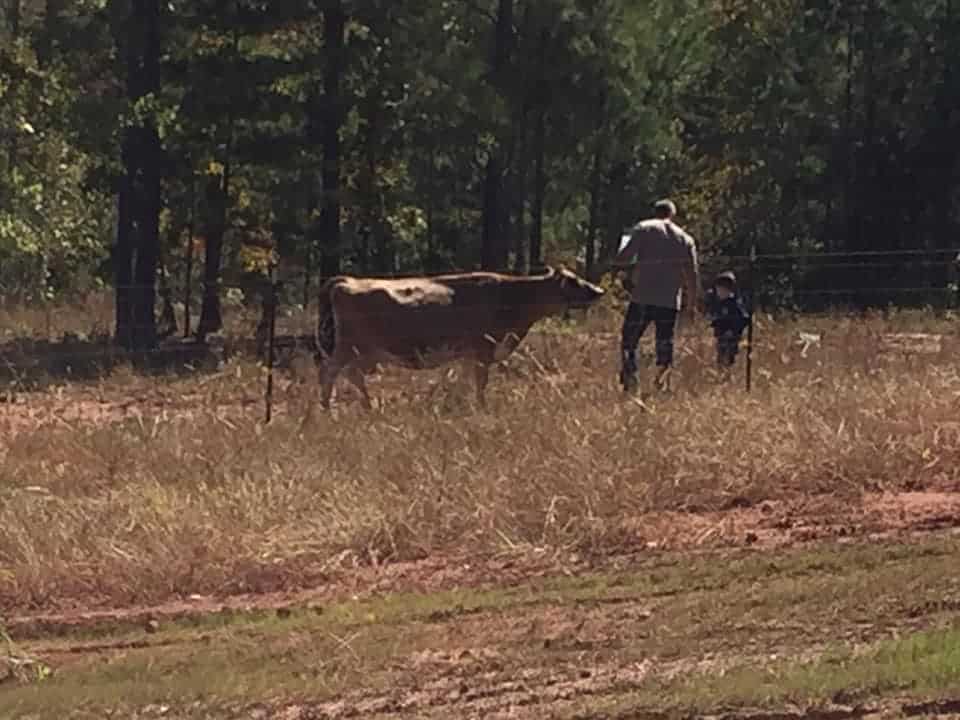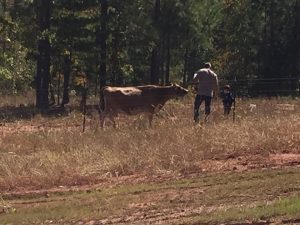 Jim and the kids took great care of the cows for me.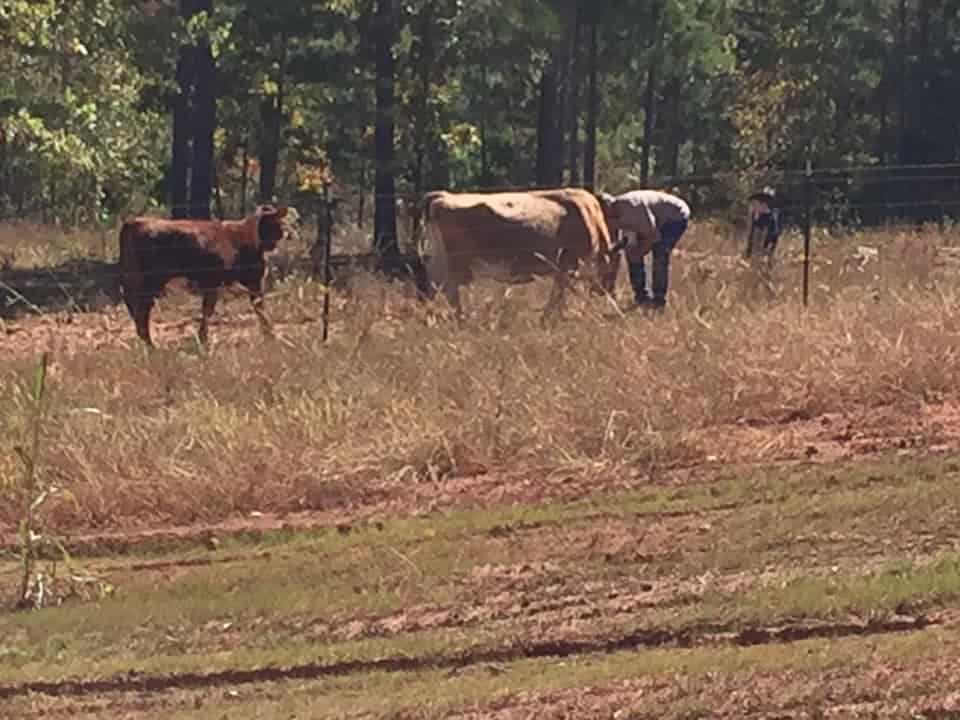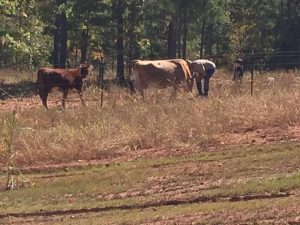 Daisy and Rosie seemed to like having Jim and Camden around.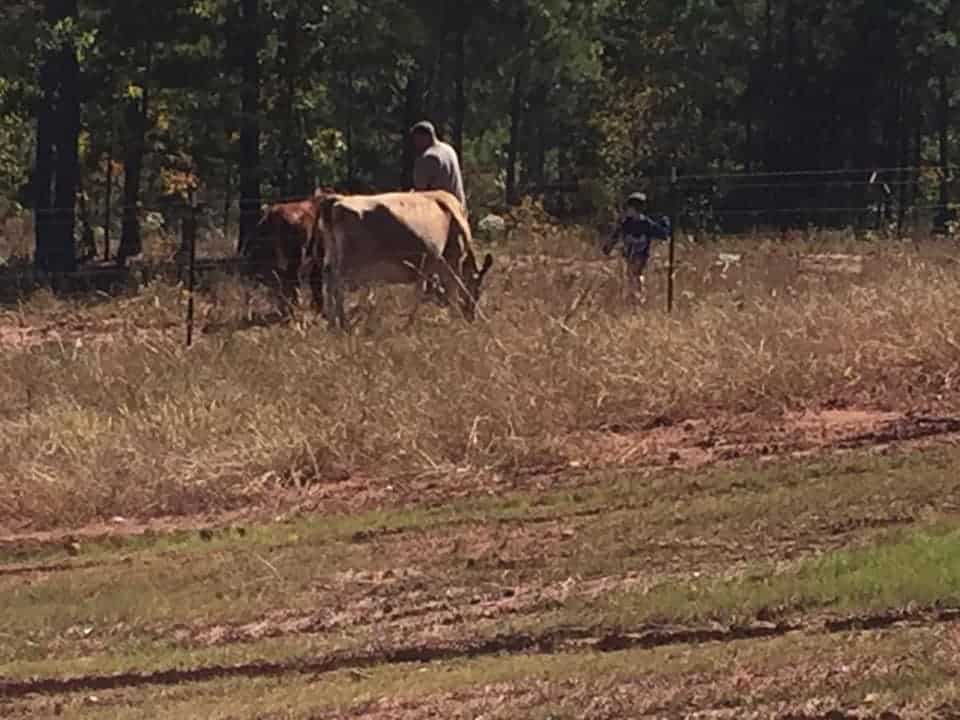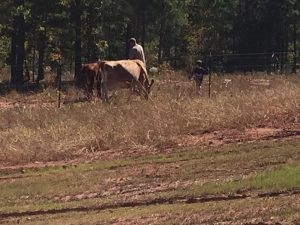 I sure do love my boys and all their help!  After a few days, the cows quit looking for me and started expecting Jim and the kids.  It was so sweet!!  But, boy do I miss my animals.
Well, needless to say that we didn't make it to the pastured pork workshop this year.  We did make it to the car mechanic multiple times though for crazy things like sensors and window motors that go out while driving down the road causing the door window to slam down unexpectedly in the middle of a rainstorm.  Camden needed a new car seat anyway, right?
We also made it to the Dr. for Maylin who had a Urinary Tract infection and an Upper Respiratory Infection.  October has got to be one of the craziest months we've ever had!  Every day it was something else that made me want to say WHATTTTTT!!!  There were times that Jim and I looked at each and neither of us had any words.  It was too crazy so we just tried to keep going.  And going…and going until things smoothed out.
Unfortunatley, being on crutches meant that I didn't get to go on Cam or Maylin's first field trip with them.  A trip to the apple orchard isn't exactly the kind of trip that is crutches friendly….and we've had enough bad luck lately.  So, I stayed home and rested my troubled leg while Jim went with Camden on his field trip.  Okay, really I stayed home and cried because I was missing Cam's very first ever field trip.  I was a bit emotional in October with all the craziness!
Maylin's first field trip was to Linville Caverns.  Again, walking around in wet caves on uneven ground with an air cast is not ideal.  So, I sat that one out too.  And cried all morning about it as well.  Obviously, I was a little bit more emotional than I previously stated….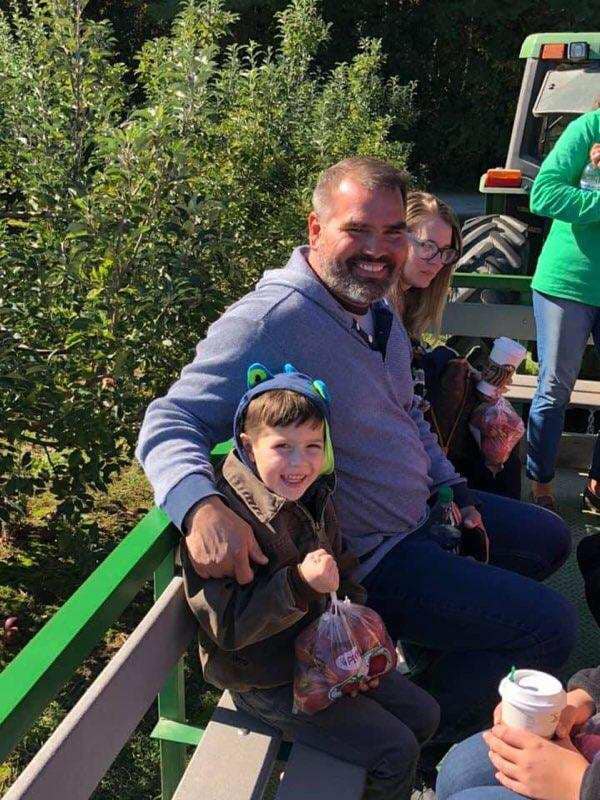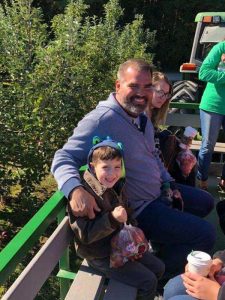 Jim forgot to take pictures of either field trip but I did manage to get ahold of this sweet picture from Cam's teacher.  Sadly, I don't have any pictures of Maylin's field trip.  Yes, that brought on a whole new wave of tears and Jim was once again left speechless.  Shocking, I know, but the craziness of this month left Jim speechless multiple times.  So sorry, Jim!!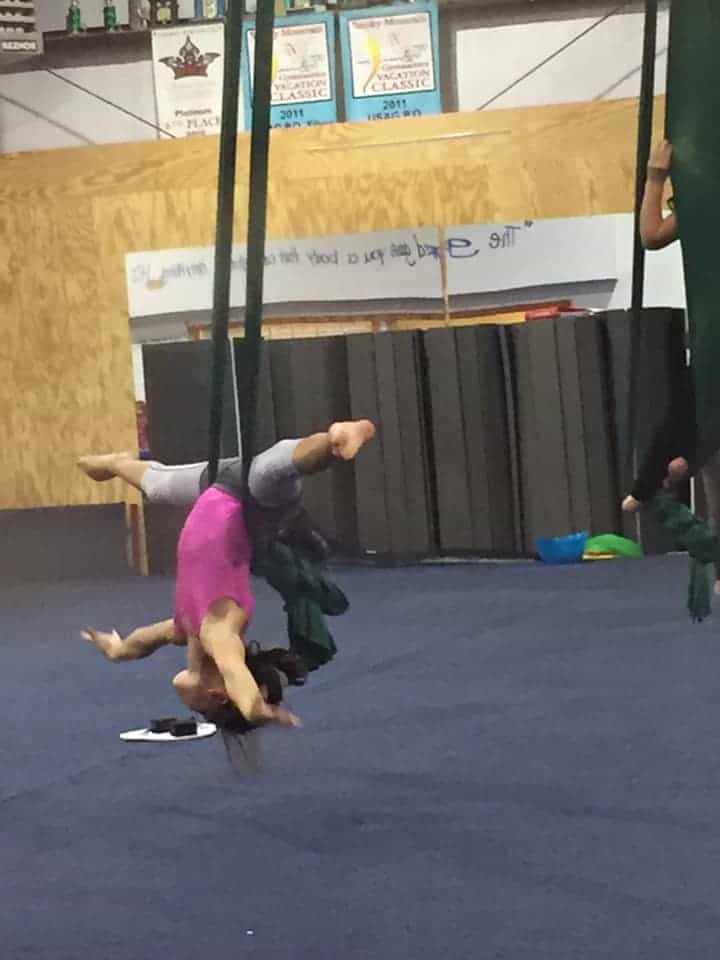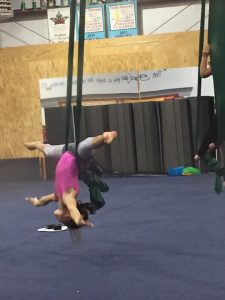 Maylin started a new circus training class in October.  She is in love with this class!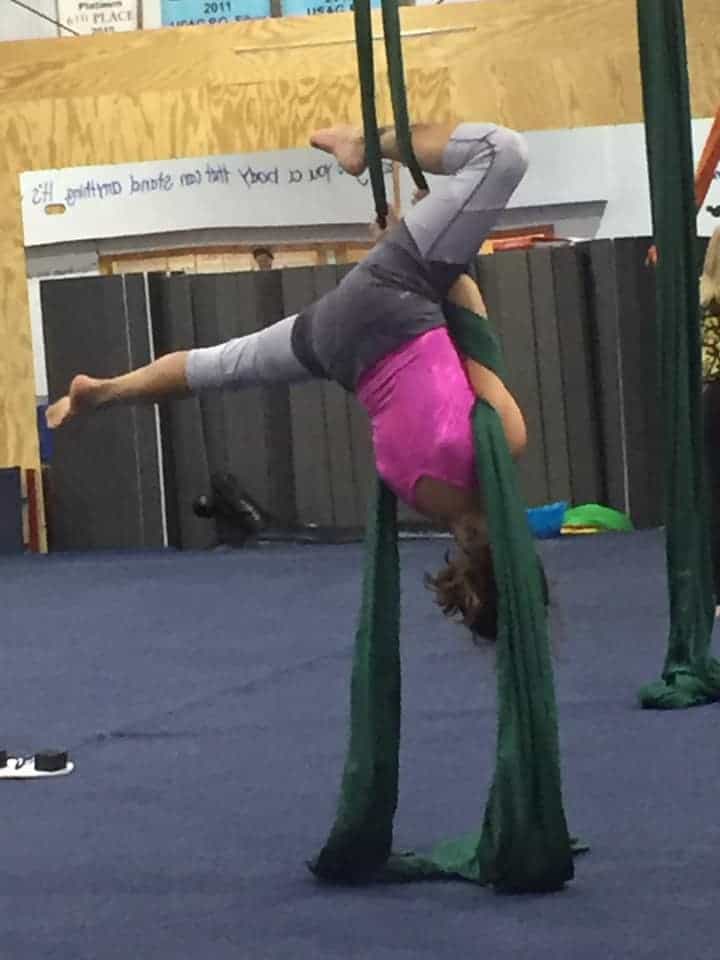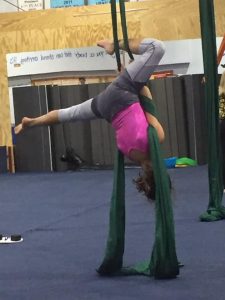 These pictures are only her 4th class.  She has done amazing!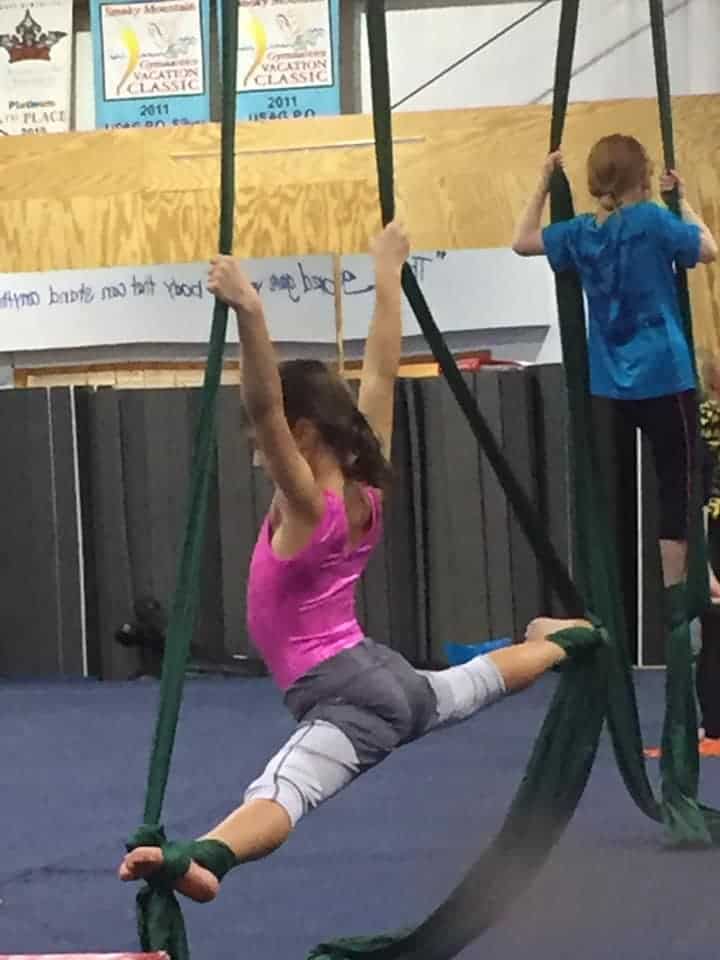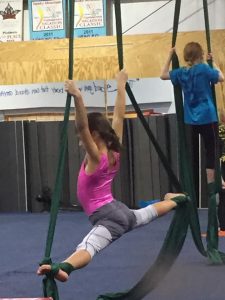 She is getting stronger and more flexible everyday!  I love my little circus monkey.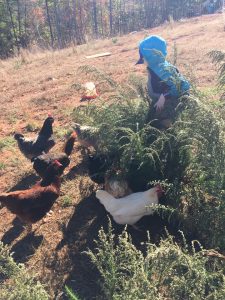 Camden also started Ninja classes this month but I don't have any pictures because he's on the other side of the gym.  So, here is Cam's other new hobby-playing Hide-and-Seek with the chickens.  I'm not kidding!  Cam and the chickens both love it, although the chickens have a bit of an advantage.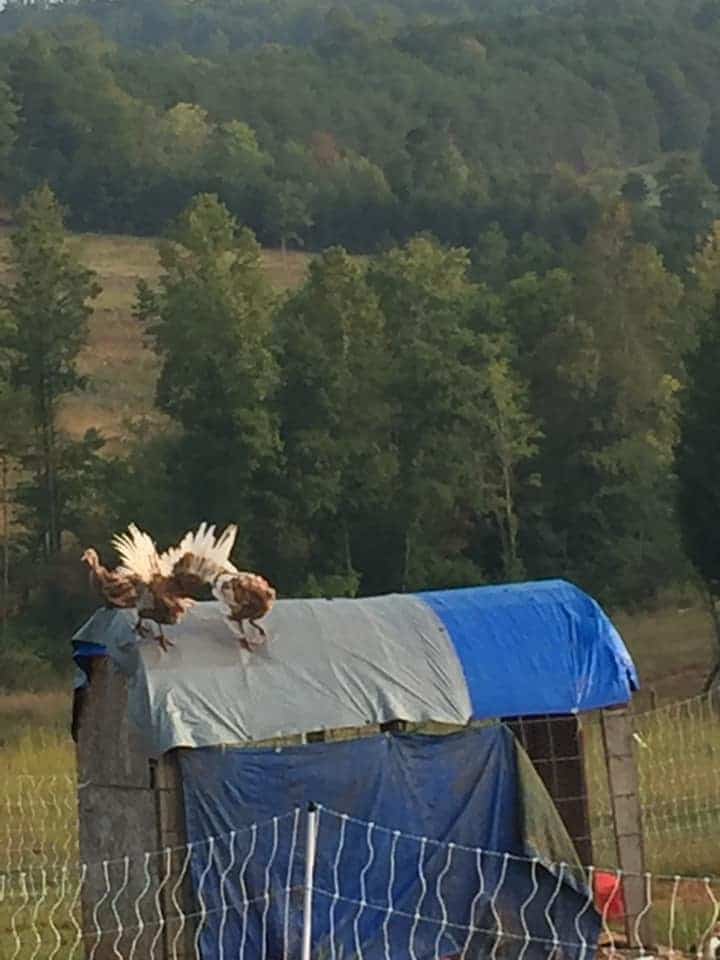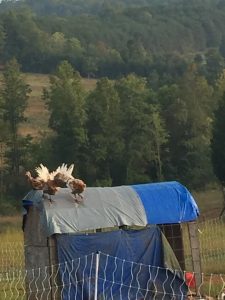 These silly turkeys started discovering their wings and started flying over their fences and wouldn't stop.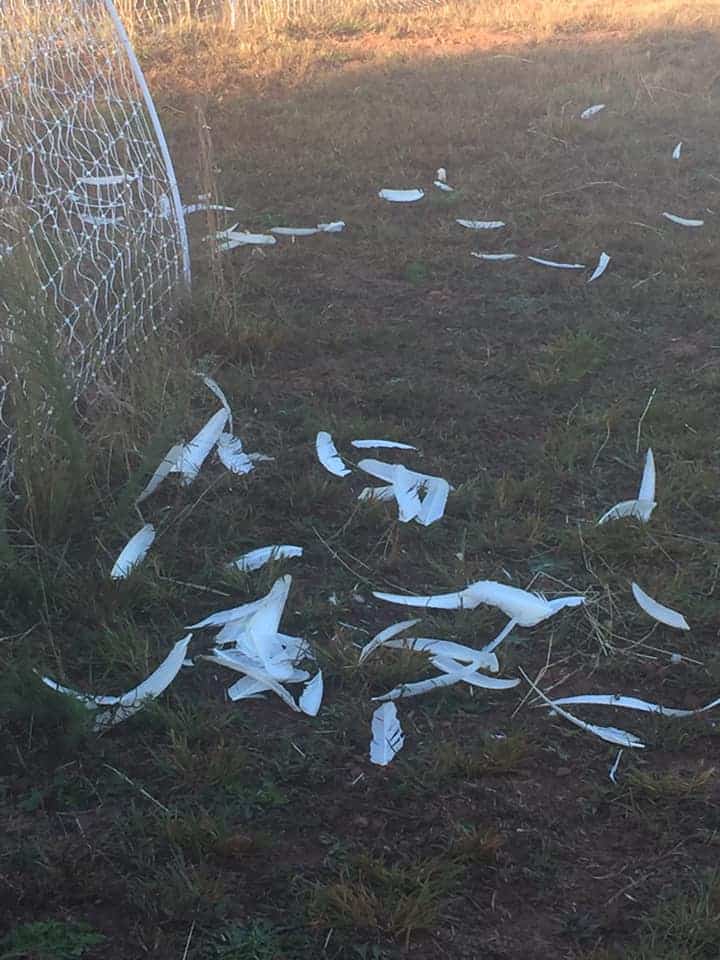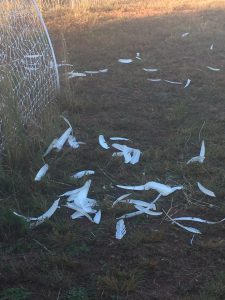 One morning I saw a turkey on my car.  My CAR!!  That was enough.  I hobbled down there and clipped their little wings.  While it doesn't hurt them to clip their feathers on one side it does make them fly crooked and crash.  I will admit I did laugh at that a few times.  That is very mean of me, I know.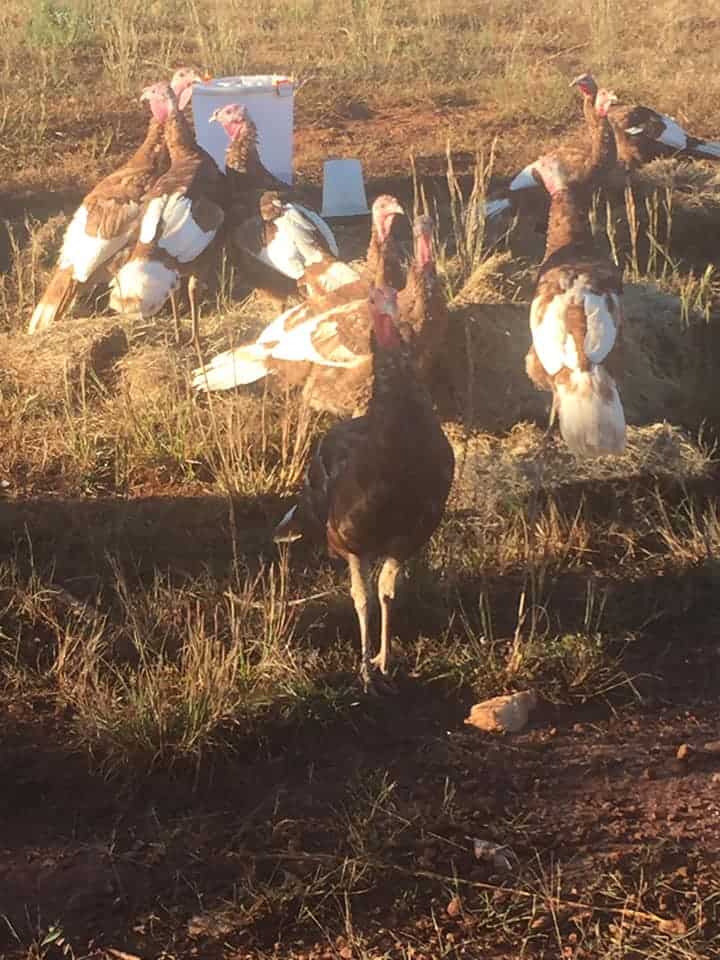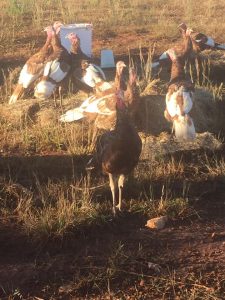 As you can see, they are just fine.  After a few crashes, they decided to stay put for a while.  THANK YOU, you crazy, little, flighty turkeys!!!
Near the end of October, poor Camden had the stomach bug.  And then he started having bathroom issues as well.  After multiple dr visits, a trip to the hospital for an ultrasound, and a referral to a pediatric urologist for more tests due to hydronephrosis of his left kidney we finally got some good news.  We headed home Halloween night with some answers and some peace for little Cam.  Some diet changes and some more check-ups and hopefully all will be well without medication.  Thank you, Lord!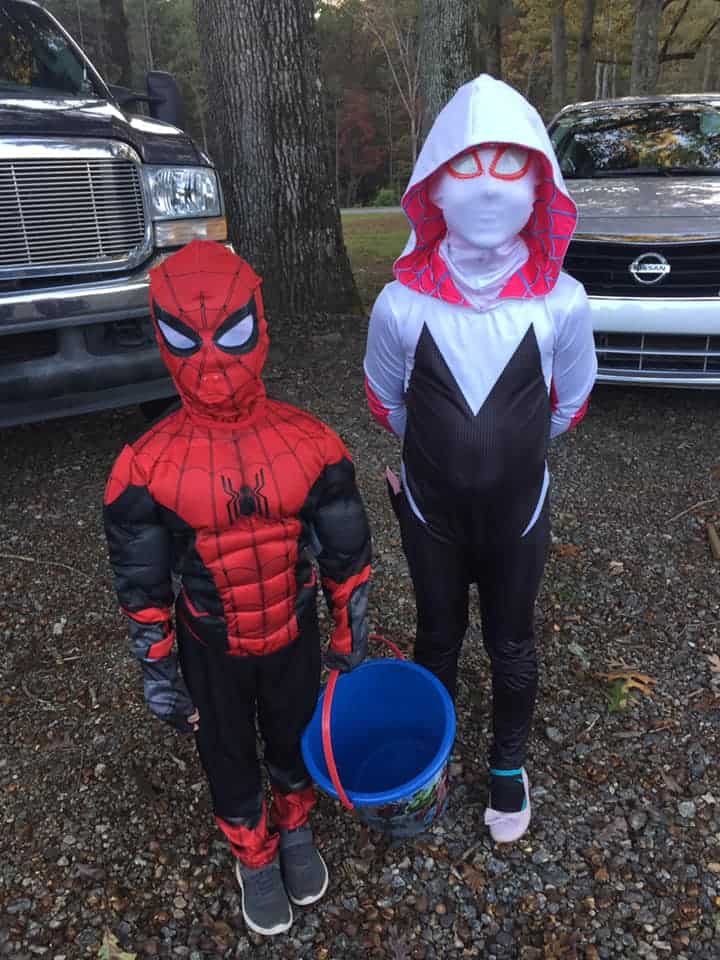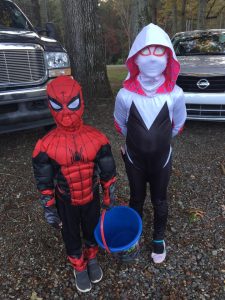 A church down the road from us did a Trunk-or-Treat the Sunday before Halloween and I was so glad that the kids were able to go and have fun that night.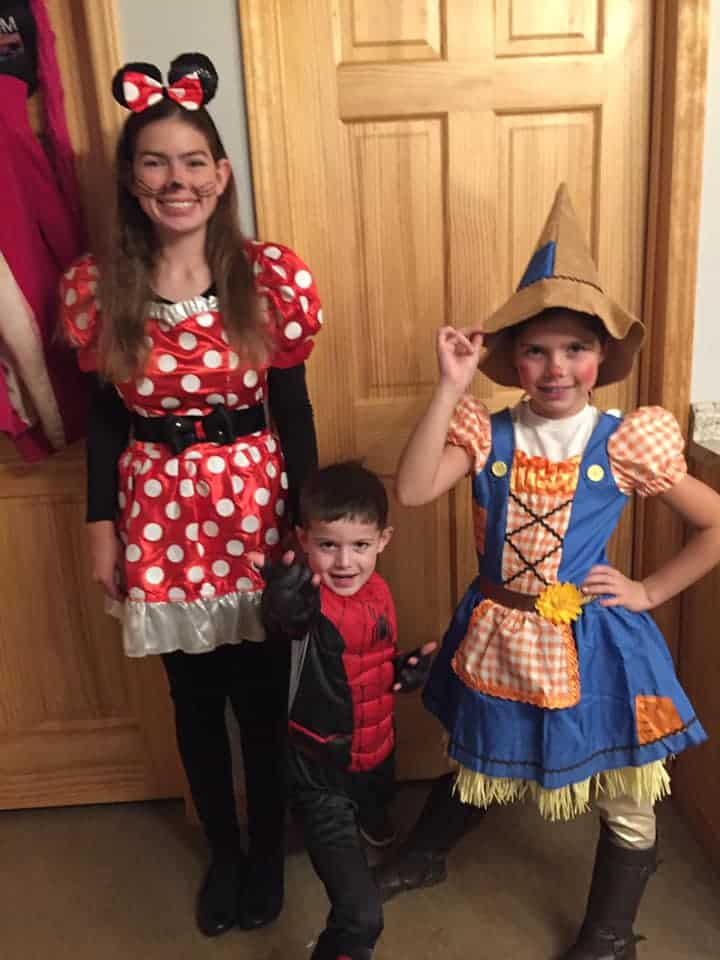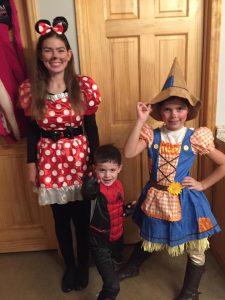 Wednesday night we had different costumes for the Hallow-Him festival at our church.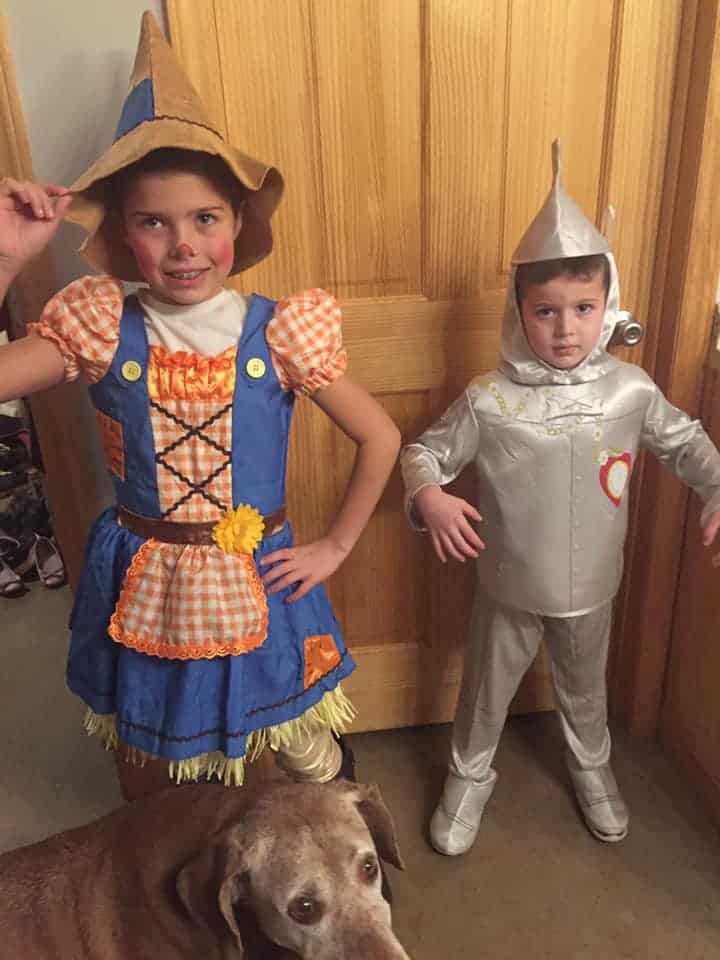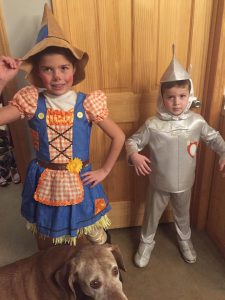 And finally Thursday the kids got to dress up for the Character Parade at school where Maylin and her friends won a prize for Wizard of Oz group.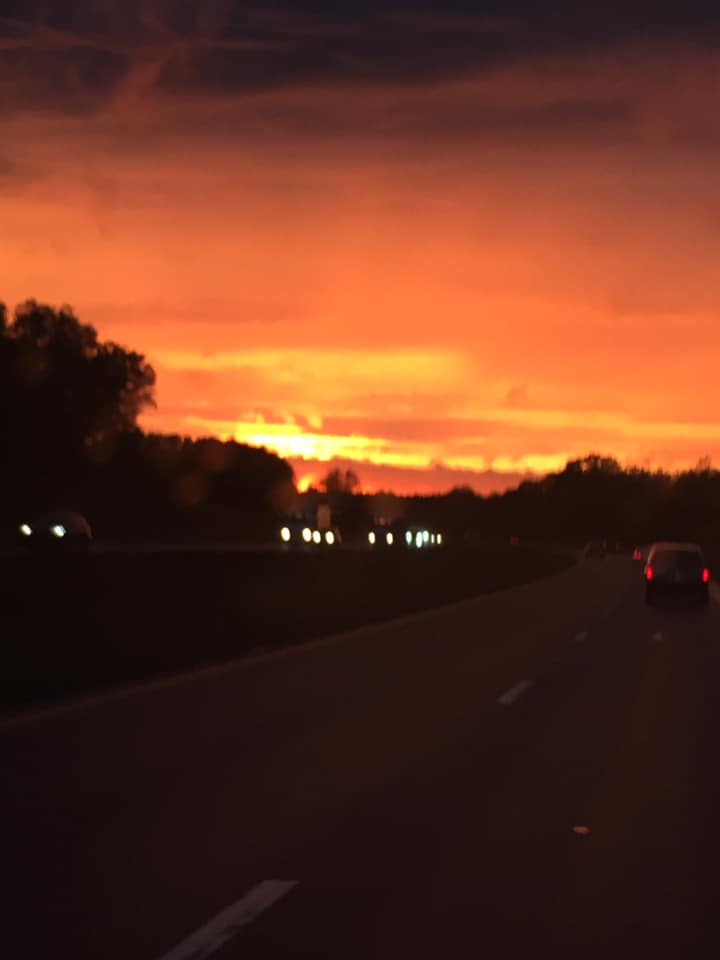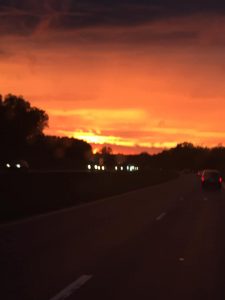 I took this picture driving home from Charlotte Halloween night.  The sunset looked as orange as a pumpkin.  It was pretty cool.
I think I forgot to mention a few other things that happened in October like first report cards (the kids did great!) and IEP meetings (Cam's school is so supportive and wonderful to work with!) and I'm sure I'm forgetting something else…. At this point though it's a miracle that I remember my own name!
So, yeah.  That's how crazy our October was.  How was yours?